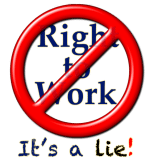 COLUMBUS, Ohio – A Cincinnati, Ohio lawmaker introduced his plan to bring a right-to-work law to Ohio despite opposition from fellow Republicans.
The proposal from Rep. Tom Brinkman (R-Mount Lookout) would prohibit mandatory union membership at workplaces. The change would give employees the choice to opt out of unions and their dues. Twenty-five states have right-to-work laws, including recently passed proposals in Wisconsin, Michigan and Indiana.
Read more from Telegraph-Forum.