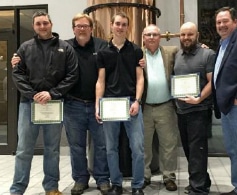 Sheet metal apprentices from training centers across Maryland, Pennsylvania, Delaware and New Jersey competed earlier this year in the region's first apprenticeship contest in seven years.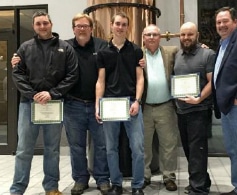 Sheet Metal Local 19 in Philadelphia hosted 22 apprentices from 8 locals to compete in second-year, third-year and fourth-year categories. Contestants were chosen through testing at their local level, and the top apprentice in each year from each local attended the regional competition.
The event was open to states in Region 2, one of 12 regions across the U.S. and Canada served by the International Training Institute (ITI), the education arm of the unionized sheet metal, air conditioning and welding industry.
Apprentices tested their skills with a digital written exam administered on the TotalTrack system; drafting, fabrication; and for the fourth-year apprentices, welding.
First-, second- and third-place winners took home cash and, of course, bragging rights.
• Second-year: James Hultberg, Local 12, 1st place; Paul Farkas, Local 25, 2nd place; and Jack Veasey, Local 19, 3rd place.
• Third-year: David Holzer, Local 12, 1st place; Dana Yerkes, Local 19, 2nd place; and Julian Ortiz, Local 25, 3rd place.
• Fourth-year: Dustin Bezuk, Local 12, 1st place; Thomas Curry, Local 19, 2nd place; and Kevin Hughes, Local 22 3rd place.
While other contests allow all apprentices to compete by skills, Region 2 kept categories specific to the level (year) in the program.
"Everyone covers the same skills in the second, third and fourth years. We stuck to what the second-year apprentice should know, what the third-year apprentice should know, what the fourth-year apprentice should know," said Norbert Klusmann, Training Coordinator for Local 100 in Suitland, Maryland and Region 2 Chairman.
"What it comes down to is execution. The students shouldn't have a hard time. The judges should have a hard time. These are the best of the best."
"The morale was a huge thing for us," Frick added. "We wanted our apprentices to be on a level playing field. No surprises. They're all winners as far as we're concerned."
Forum for communication
The general goal of the contest was simply to get apprentices, instructors and training coordinators from across the region to network, share ideas and help one another make their programs better.
Keith Schettler, a new coordinator at Local 12 in Pittsburgh, started as a skeptic and quickly turned into the contest's cheerleader. As well as giving his apprentices a good learning experience, he took the opportunity to learn from seasoned instructors and coordinators – an important part of growing as an instructor, Schettler said.
"Without the contest, it builds complacency in the program," he added. "It was a great way as a new coordinator to judge where we were as a training center. We can't sit back on our laurels. This is a competitive work force. If you don't have people who are willing to compete, you're not going to get that job. You can't put a value on this for the region."
The competition not only fired up the apprentices, it inspired instructors and coordinators to step up their programs back at home, Schettler said.
"It let the true focus of education shine through," Schettler said. "It showed the apprentices where they needed to be, but it also allowed us to evaluate ourselves."
Klusmann added, "These apprentices were bonding. That's the stuff that made it go well. The apprentices were already talking about next year."