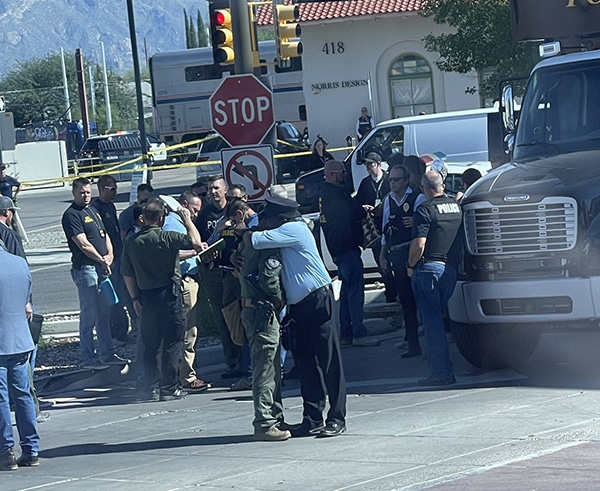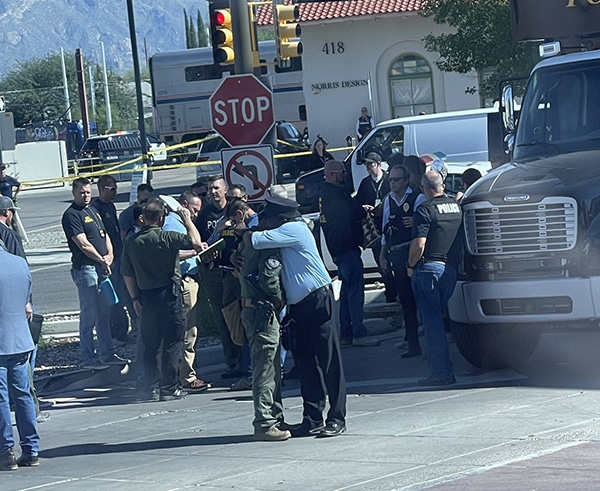 A DEA officer was killed, as was a suspect, and two other law enforcement officers were wounded when gunfire erupted inside Amtrak's Sunset Limited train the morning of Oct. 4 while it was stopped at the Southern Arizona Transportation Museum in Tucson.
One suspect was in custody, according to media reports, and none of the 137 passengers or 11 crew members aboard the train were injured in the incident, which authorities said was precipitated by a routine search for illegal contraband and drugs aboard the train.
Video of the incident as it happened was captured by a live railfan cam at the museum station.
Terrence Dicks, a 20-year member of our union and a member of Local 84 (Los Angeles, Calif.) who was the conductor on the train when the gun battle happened, can be seen in a photo provided to The Associated Press and other media outlets on Twitter by passenger Evan Courtney providing comfort to a Tucson police officer who had responded to the scene.
The identities of the slain DEA agent, the injured officers nor the suspects were not released at the time of this article's publication.
"We express our most heartfelt sorrow to the law enforcement brothers and sisters of the DEA agent who was killed in this senseless act of violence, and we wish for rapid recoveries for the two wounded officers," said SMART Transportation Division National Legislative Director Gregory Hynes. "We also express relief that the incident in Tucson did not result in additional casualties among the passengers and crew who were aboard the train.
"But that such an incident happened during a routine stop and search exposes a great flaw in the security measures currently used on our nation's passenger rail system. We again call upon Congress to enact measures that bring the level of security screenings aboard the nation's passenger trains to where they are in the nation's airports."
SMART-TD initially called for such measures by federal agencies soon after the Jan. 6, 2021, insurrection at the nation's capital.