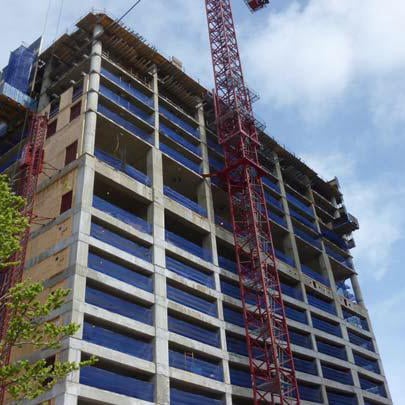 Thomas Company got its start in Egg Harbor Township, N.J., in 1920 in the years following World War I and less than a decade before the Great Depression. Despite that beginning, the economic collapse in 2008 and subsequent fallout in Atlantic City left the then 94-year-old company, a member of the Sheet Metal Contractors Association of Philadelphia and Vicinity, on the verge of closing its doors.
Meanwhile, SMART Local 19, based in Philadelphia, was fighting its own battle—carpenters attempting to take over all of the architectural sheet metal work, which had been a staple for the local since 1887.
Working together, Local 19 they staved off the raiding attempt.
George Thomas, the third-generation owner of Thomas Company, decided to take the risk to expand beyond HVAC work, into the architectural metal market. He and Local 19 Assistant Business Manager Bryan Bush visited a dozen general contractors and developers in the area to talk about Thomas Company's capability to perform architectural projects.
"We were sitting down with whoever we possibly could to get him the work," Bush said. "Before you knew it, he started landing every other job. It wasn't an overnight thing. We just kept working on it."
"I give the guy a lot of credit," added Gary Masino, Local 19 business manager. "He leaves no stone unturned. We learned a lot from each other. He taught us we can do the work again."
Once the risk proved to be a success, other contractors followed suit.
In less than a year, Thomas Company was keeping 100 craftsmen busy. Today, Thomas Company and Local 19 continue to work together to increase market share. "It's a true partnership. We depend on them as much as they depend on us," Thomas said.

"When all parties agree and care, anything is possible," Masino said.