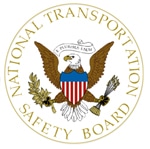 The National Transportation Safety Board is seeking a qualified candidate to serve as a railroad accident investigator and would like to hear from interested SMART Transportation Division members with expertise in railroad operations, railroad accident investigations and railroad safety.
This position is located in the Railroad Division, Office of Railroad, Pipeline, and Hazardous Materials Investigations (RPH), National Transportation Safety Board (NTSB), and the candidate will serve as an investigator-in-charge.
The individual will be responsible for organizing, managing and coordinating the investigation of major railroad transportation accidents and developing and presenting reports with safety recommendations for adoption by the board, Railroad Division Chief Georgetta Gregory reports.
Complete details regarding the position, including salary, benefits, duties and required qualifications can be found at www.usajobs.gov by entering job announcement number RPH-1328401-MIB in the Advanced Search box.
Applications will be accepted through March 10, 2015.