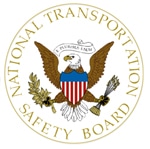 The National Transportation Safety Board (NTSB) held a board meeting (webcasted live) yesterday, detailing the probable cause of the May 2015 Amtrak train 188 derailment outside of Philadelphia.
The derailment caused eight people to lose their lives and over 200 injuries. The NTSB found that "the probable cause of the accident was the engineer's acceleration to 106 miles per hour as he entered a curve with a 50 mile per hour speed restriction, due to his loss of situational awareness likely because his attention was diverted to an emergency situation with another train. Contributing to the accident was the lack of a positive train control (PTC) system. Contributing to the severity of the injuries was the inadequate requirements for occupant protection in the event of a train overturning."
The NTSB also made numerous recommendations to the Federal Railroad Administration (FRA), Amtrak, American Public Transportation Association (APTA), Association of American Railroads (AAR), Philadelphia first responders, Philadelphia's mayor and National first responders organizations based on the accident and their findings.
The NTSB recommended to the FRA that they consider requiring railroads to install procedures where no PTC is present; modify existing regulations to include the number of crewmembers required in the cab of the locomotive and use the data regarding the number of crewmembers in the controlling cab of the train at the time of an accident to evaluate safety adequacy of current crew size regulations; and conduct research to evaluate the causes of passenger injuries and evaluate methods for mitigating those injuries such as the use of seat belts and implement any findings.
The NTSB recommended to Amtrak that they incorporate training strategies for operating crewmembers and new hires to recognize and effectively manage multiple concurrent tasks in prolonged, atypical situations.
Click here to read a summary of the NTSB's findings.
Click here to read NTSB Chairman Christopher Hart's opening statement.
Click here to read the presentation given by the NTSB.
Click here to read Hart's closing statement.
Click here to view the webcast.