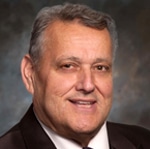 By Joe Nigro, 
SMART General President – 
Recently, SMART Sheet Metal Division Local 9 and Transportation Division Local 202 came together to honor the memory of the victims of a massacre that occurred 100 years ago.
On April 20, 1914, the Colorado National Guard joined with security guards hired by a local mining company to launch a bloody and devastating assault on 1,200 striking coal miners and their families camped at a tent city set up in Ludlow, Colo.
The event, known today as the Ludlow Massacre, saw one of the most egregious acts of violence committed by company guards and mine owners against their workers in a time when acts of violence against workers were commonplace. More than two dozen people, including 11 children and the four women shielding them from harm, were killed in the assault when a tent they were hiding in was lit on fire by company guards.
The man who led the attack on the miners, Gen. John Chase of the Colorado National Guard, had no love for the men and women who made up the labor movement, nor their families. According to historian Howard Zinn, in his book Three Strikes, Chase led a cavalry charge right into a group of protesting women a week earlier who had been supporting the striking miners. His troops tore banners and flags from the women's hands while slashing bystanders with their sabers. Chase later went on to call this an effective means of mob control.
This massacre was a watershed moment in American history. The outcry was so fierce and loud that workers across the country struck as a result to demand justice for the women and children that were murdered in cold blood. A hostile Senate was forced to convene hearings looking into labor conditions and actually made incremental changes that began to form the foundation of the New Deal reforms two decades later. The incident continued to serve as a rallying cry for working families on through the following decades as the memory of those women and children was not left to die.
The Ludlow families helped bring our local unions closer together today just as they did a century ago when the labor movement demanded an end to this brutal violence in one loud voice.
This is the power of unity on display – a force for change and for progress that is as strong today as it was strong in those dark, early days where workers lost their lives fighting to improve their working conditions.
SMART members are already taking advantage of this unity. In New Mexico, Sheet Metal Division Local 49 was involved in assisting the Transportation Division in organizing 40 new members at Herzog Transit Services – a subcontractor responsible for running New Mexico Rail Runner Express commuter rail service. In New York, Sheet Metal Division locals are standing shoulder to shoulder with their brothers and sisters on the Long Island Rail Road against a difficult management at the New York Metropolitan Transportation Authority.
This is the kind of unity and strength envisioned by our predecessors when this merger was voted on and passed seven years ago. We are now gradually starting to see the fruition of that vision.
I look forward to standing with you in securing a better future for ourselves and for our families and ask that you join us in commemorating the victims of this heinous massacre. Their memory lives on in our actions and in our work to strengthen the solidarity and bonds of the labor movement we are all a part of.