Rail safety, campaign cash on collision course in Neb.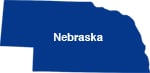 At a time when rail safety is making national headlines, the dangers of train travel and campaign cash are on a collision course in Lincoln.
Some state lawmakers are backing a plan to force the state's two major railroads, Union Pacific and Burlington Northern Santa Fe, to run trains with no fewer than two crew members.
Read the complete story at Watchdog.org.