Top 10 busiest Amtrak routes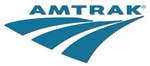 Rail use in America continues to climb ever higher. In July, Amtrak posted its busiest ridership month ever. But what are the busiest individual routes?
Let's take a look. Here are the 10 highest ridership Amtrak routes, as of July, 2013.
Read the complete story at greatergreaterwashington.org.