SMART Endorses Clinton for President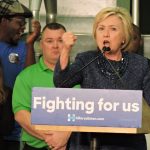 SMART, the International Association of Sheet Metal, Air, Rail and Transportation Workers, has endorsed Secretary Hillary Clinton as the union's choice for President in the upcoming 2016 election.
Clinton stood out to members based on her strong leadership, experience, competency and unwavering support for working families.  The selection process had input from a survey of the union's U.S-based members and from its leadership at the local, regional, and national levels.
SMART General President Joseph Sellers, Jr., said, "She has the real-world experience and dedication that makes her the right candidate to serve the interests of America's working families in these turbulent times."
Sellers noted that "Secretary Clinton's plans are detailed and well-reasoned. On the economy, she will build on our apprenticeship and training programs, expand and improve freight transportation and transit and address environmental concerns with investments in energy efficiency. All of these involve jobs that members earn their living in every day."
SMART surveyed its diverse membership on the 2016 election in December. The poll focused on issues, not candidates, in order for member feedback to guide the union's electoral efforts in every race, at every level, in 2016 and beyond.
Members overwhelmingly chose jobs and the economy as their most vital interest. On qualifications, members indicated they want leaders to possess the competency, broad experience and serious approach necessary to tackle the nation's difficult domestic and international challenges.
These, combined with the membership's preference, led the SMART General Executive Council to approve Secretary Clinton for the Union's support. SMART will mobilize its members across the United States to help ensure that Hillary Clinton is elected to serve as the next President of the United States.
Sellers also acknowledged Senator Bernie Sanders, saying, "I thank him for his lifetime of unwavering support for working families and especially for ensuring that the everyday issues working families face are squarely addressed in this campaign."