SMART bus operators reject Teamster advances
CHARLOTTE, N.C. – SMART Transportation Division organizers, representatives and members of Local 1715 at Charlotte, N.C., have turned back the International Brotherhood of Teamsters in an attempted raid of SMART membership.
Local 1715 represents bus operators employed by the Charlotte Area Transit System (CATS).
On May 31, the National Labor Relations Board released the official tally of a representation vote held earlier that day in which SMART was chosen by nearly a 3-1 margin.
SMART TD Director of Organizing Rich Ross gave the official vote count as 267-97 in favor of SMART. There are approximately 600 drivers employed in the system.
The SMART TD is the collective bargaining agent for both CATS' bus operators and bus mechanics (Local 1596), but the mechanics were not targeted during the raid.
Ross said rallying the SMART membership here was truly a team effort and he thanked International Organizers Mike Lewis and Calvin Studivant and General Chairperson Alvy Hughes for their outstanding effort. He also ackowledged the efforts of North Carolina State Legislative Director Ron Ingerick, Vice General Chairpersons Hasson Trent and Cheryl Brown, General Committee Secretary Bill Brown and local officers Bruce Wright, Kevin Moss, Brenda Moore, Debra Franklin and Donell Taylor.
"I believe it is now our responsibility to show the people that voted against UTU-SMART why they should have voted for us," Ross said.
The transit system's website says that CATS is the largest transit system between Atlanta, Ga., and Washington, D.C., with more than 70 local, express and regional bus routes, a light rail line and services for the disabled.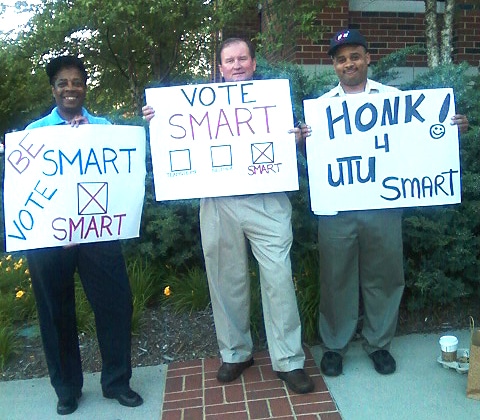 Local 1715 Legislative Rep. Debra Franklin, International Organizer Mike Lewis and
Local 1715 Chairperson Kevin Moss rally Charlotte Area Transit System bus operators 
during a representation vote May 31.