Sheet Metal Local 91 Gives Back to Iowa Community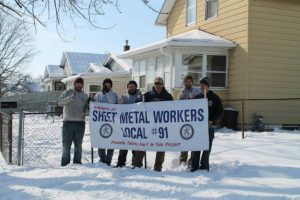 Several Sheet Metal Local 91 members volunteered on Saturday, February 7, installing duct work and a furnace for a Bethany for Children and Families home. Bethany has provided voluntary, not-for-profit services to children and families in western Illinois and eastern Iowa since 1899, when it was founded and incorporated as the Union Mission. During its early years, Bethany was predominantly a custodial facility that concentrated on the needs of children who were homeless or whose parents could not or would not raise them. Since then, Bethany has grown to offer foster care and child welfare services, while developing and fostering ties with communities in the Quad Cities area. More recently, Bethany has moved beyond the provision of child welfare and adoption services to preemptively addressing problems and situations that impact children, youth, and families.
Those representing Local 91 were: Steve Eggers, Mike Douglas, Justin Burbridge, Mark Woodruff, Tony Phares, Jr., Greg Douglas, and Ken Diericx.