Reminder: Transportation Scholarship application deadline is March 31

The application deadline for scholarships offered by the UTUIA and is March 31, 2019.
The UTUIA offers two types of scholarships. The first scholarship is the UTUIA college scholarship for anyone attending college. Fifty scholarships of $2,000 each will be given out for each year that the student attends college for up to four years.
The second scholarship is the trade scholarship. This new scholarship is for students attending a two-year trade school. Fifty scholarships of $2,000 each will be given to
the winner each year for up to two years.
Applicants must be at least a high school senior or equivalent and under the age of 26. Applicants must be associated with the UTUIA by either owning a UTUIA insurance policy, or by being the child or grandchild of a current UTUIA policyholder. Scholarship applicants must also be associated with the SMART Transportation Division by belonging to the union, or by being the child or grandchild of an active or lifetime SMART Transportation Division member.
Click here to read the official rules of the UTUIA's scholarship program.
here to apply for either scholarship offered by the UTUIA online.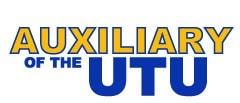 The Auxiliary of the UTU Scholarship Fund Board will award aminimum of eight four-year scholarships of $1,000 each school year. Scholarships are awarded to applicants drawn from a pool that includes children, stepchildren, grandchildren and step-grandchildren of living Auxiliary of the UTU members.
When applying for the scholarship, the Auxiliary member must have been a member for at least one year as of March 31 in the year of the scholarship application and must maintain membership throughout the duration of the scholarship award.
Click here for the official rules of the Auxiliary of the UTU Scholarship program. The official applicationappeared on page 5 of the Auxiliary's December 2015 newsletter, located here.