New Stadium Shines In Minnesota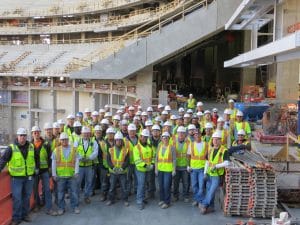 Scheduled to open in July 2016, the new Minnesota Vikings stadium will be a multipurpose facility housing up to 72,000 fans for NFL home games, offering both the comfort of an indoor stadium and breathtaking sightlines that allow fans the feeling of being outdoors.
Thanks to the members of Sheet Metal Local 10 (Minnesota, North Dakota and South Dakota) and their partnership with some of America's leading sheet metal employers, the vision required for pulling off a project of this immense scale is beginning to take shape.
The stadium, which measures 1.75 million square feet, will have a fixed, translucent roof and moveable front windows, allowing natural light to enter the stadium while giving fans a view of downtown Minneapolis. To allow for easier snow removal, the roof is slanted—in the shape of a Viking longboat.
These details are not only aesthetic but also utilitarian. The roof's shape allows accumulated snow to be moved and better managed. The movable windows will allow for the stadium to occasionally experience some of the outdoor elements while providing protection from the snow, rain and cold winter weather.
Multiple Crews, Massive Scale
The project generates impressive numbers, from manpower to materials.
Harris Mechanical, the mechanical contractor on the project, is currently employing multiple Local 10 crews on 9 different levels of the stadium. Most of them are on the east side of the stadium site, where construction began in the parking lot of the old Metrodome, doing roof decking and catwalk duct installation.
All of the mechanical systems are being modeled, fabricated and preassembled before arriving on-site. More than half of the air handling units are already set in place and have been tested. Twelve of these will provide temporary heating and cooling by this fall as the cold Minnesota winter starts to blow in.
According to Harris Mechanical's General Superintendent Joe Skoglund, "there are over 50 AHU's, 250 VAV boxes, over 200 multipurpose exhaust fans, 300 fan coils and approximately 3 million lbs. of sheet metal used in the HVAC system alone."
Skoglund indicated that "there is also 2,500 linear FT of 84-inch round," and union skill created efficiencies for getting it in place. Working closely with other crafts, Local 10 members were able to maximize the amount of pre-fabricated 84-inch spiral pipe that could be secured to the catwalk on the ground and lifted in sections ranging from 40 to 150 linear feet at a time. This minimized the number of connections that Local 10 members would have to make—some 200′ above the field elevation.
Top Employers on the Job
Besides Harris Mechanical, several other Local 10 employers are working on the project. Albers Commercial Kitchens has members installing the concession stands along with walk-in coolers, with more than 18,000 hours of work.
Sheet Metal Connectors, one of the country's leading duct manufacturers, operates in Minneapolis and is supplying duct for the project.
MG McGrath is utilizing Local 10 members for architectural sheet metal work throughout the stadium that totals more than 325,000 square feet of flush seam panel—enough hours to keep 30 sheet metal workers busy for a year.
Local 10 Business Manager Jim Bowman said that "this project really showcases the versatility and diversity of Local 10's membership. This stadium will be distinct due to the unique weather we receive here."
"At the same time," Bowman added, "we want sports fans to feel like they are out in the open, so our work is able to ensure that fans experience the comfort of home while still being able to feel like they're in an outdoor stadium."