New Mexico Institutes Nation's First State-Wide Fire Life Safety Law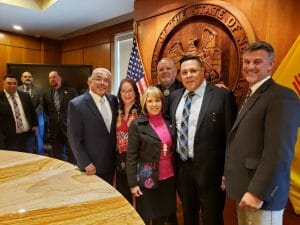 On March 27, sheet metal workers in New Mexico saw the culmination of years of effort when SB 143 was signed by Governor Michelle Lujan-Grisham.  This legislation makes New Mexico the first state in the nation to ensure that fire and smoke dampers and smoke control systems are properly tested and inspected in accordance with National Fire Protection Association standards.  These life-saving requirements will apply to public buildings, storage facilities and multifamily dwellings.
During an event such as a fire or other emergency that introduces pollutants into the air, HVAC (heating, ventilation and air conditioning) ductwork can act as a "freeway," by circulating smoke and toxins throughout a structure, even to rooms far away from the flashpoint.
The successful operations of fire life safety building systems could mean the difference between a nuisance fire and an out of control catastrophe. But smoke and fire dampers experience a failure rate of up to 60%. Most of them could be found, repaired and prevented by a proper hands-on inspection performed by ICB/TABB certified ANSI-accredited professionals.
In recent years, numerous localities and cities such as Cleveland, Pittsburgh and most recently Philadelphia have passed similar legislation.  New Mexico sets a precedent by becoming the first state to do so.
SMART General President Joseph Sellers, Jr. congratulated SMART Sheet Metal Local 49 leaders and members in New Mexico, by noting that "these new regulations will go a long way in ensuring the safety of New Mexico families.  Local 49 has demonstrated its leadership in trailblazing a path forward for the sheet metal industry."