Mooney Appointed to SMART GEC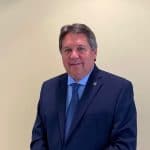 Mike Mooney is in his 34th year as a SMART sheet metal worker. He started his Sheet Metal career in 1986, finished his 5-year Apprenticeship in 1991 and worked with the tools as a Foreman until 2000. In 2000, he was appointed as a Local 18 Union Organizer and continued in this position until 2005. In 2005, the membership elected Mike as their Milwaukee Area #6 Business Representative where he continued in this position until 2013. In 2013, he was elected to the Statewide position of Financial Secretary/Treasurer for Local 18 and he continued in this position until 2018 when he was elected as the President/Business Manager for Sheet Metal Workers' Local 18 and he continues in this capacity today.
In 2018, Mike was also appointed as a member of the National Joint Adjustment Board (NJAB) and has also served on many committees for the International. In 2019, Mike was appointed to the Executive Board of Building Advantage. Building Advantage is a Labor Management council that promotes union construction in Southeastern Wisconsin. The Building Advantage Executive Board is made up of six labor and six management representatives, along with six industry advisors solving issues of mutual concern, promote use of union construction and recruitment of the future workforce.