Magazine names UP best veteran-friendly company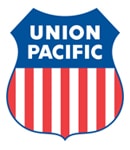 OMAHA – U.S. Veterans Magazine named Union Pacific Railroad among the nation's top veteran-friendly companies. The results were announced in the publication's 2013 "Best of the Best" list, created to encourage diversity-inclusion practices among industry leaders.
"Being named a top veteran-friendly company is an honor that highlights our commitment to hiring and supporting veterans," said Roy Schroer, Union Pacific vice president-human resources. "Military experience translates very well into the railroad industry. Veterans' leadership skills and teamwork focus enhance our railroad's safety, service and efficiency."
Approximately 23 percent of Union Pacific's nearly 3,900 hires in 2012 were veterans. Union Pacific is a member of the Army Reserve's Employee Partnership Initiative; is a supporter of the Army Partnership for Youth Success program; and is a past recipient of the Freedom Award, the U.S. government's highest employer recognition, and the Military Officers Association of America Distinguished Service Award.
U.S. Veterans Magazine selected Union Pacific based on evaluations that identified efforts to be accessible and outreach to veteran populations. The review process utilized independent and market research, interviews, diversity conference participation and survey responses.