Local 36 Daughter Honors Her Father With Visit To His Union Brothers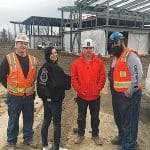 To celebrate her late father's birthday and to say thanks for the work that members of SMART Sheet Metal Workers Local 36 perform, Angie Sonnenschein (wearing her dad's Local 36 jacket) visited with Local 36 members.
Brother Sonnenschein joined Local 36 in December 1979 and retired from Industrial Sheet Metal, where he worked for 23 years, in 2011. He passed away Dec. 14 after a battle with brain cancer. He would have turned 64 on Valentine's Day. According to the St Louis Labor Tribune, she called Local 36 the day before his birthday and scheduled a visit with Local 36 Financial Secretary-Treasurer Jeremy Snyder.
Snyder said that "instead of mourning, she wanted to celebrate his birthday by taking coffee and donuts to some of his fellow sheet metal workers."  Snyder and Local 36 Business Representative Chris Brunnert arranged for a visit, and she met with members at the Harris House Inpatient Treatment Center jobsite in St. Charles, Missouri, and at Wiegmann Associates Mechanical Contractors and Engineers in St. Charles.
Photo courtesy of Angie Sonnenschein