Local 33 Beats Back Attack On HVAC Licensing Requirements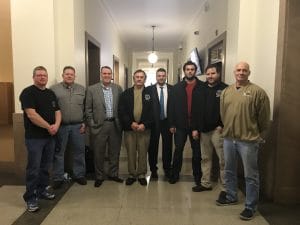 In 2013, SMART Sheet Metal Workers' Local 33 along with help from Locals 24 and 100 embarked on a journey to secure state licensing for all workers who perform work on HVAC/ Fire Dampers in the State of West Virginia.  This was done to not only secure market share but also to stem the tide of out of state contractors who would enter the state and undermine local standards.
With a Democratic controlled House and Senate this was still no easy task as the slow and complicated legislative process worked itself out, yet, after two years HVAC licensing was enacted.
Fast forward to a 2016 red wave that ensured Republicans were in charge after 80 years of being out of power in West Virginia. Their first two pieces of legislation were Senate Bills #1 and #2 to repeal the prevailing wage and introduce tight to work – showing where their priorities lay.
They followed up this activity by attacking every facet of organized labor, some of their efforts were successful some were not but there was no mistaking who they were after.  Each year after their takeover an individual  member of The House of Delegates, who owns a nonunion HVAC company , put bills forward to repeal the HVAC licensing.
Ethics violations were filed against this delegate for acting solely in his self interest and Local 33 lobbied heavily.  Several pro-labor Republicans joined Democrats in seeing these bills died in committee.
In early 2018, word was received that a bill was being introduced to repeal again.  Partnership Development Rep and SMART lobbyist Steve Hancock was called upon to go to the Capitol and see what could be done to stop this legislation. Once there the picture became clear that this was not a normal repeal attempt as no longer were lower level members of the House of Representatives and Senators signed on to sponsor this bill.  This time the Majority Leader of the House was sponsoring the House version and the Chairman of the Senate Workforce Committee was sponsoring the Senate version – showing it was now a high priority.
The lobbying on SMART's behalf began in earnest. SMART Sheet Metal Local 24 Business Rep Jeff Rowe assisted along with Steve White (West Virginia Affiliated Construction Trades Foundation Director).
Thirty days into the session the legislation started to move and brother Hancock was approached to see if SMART would sit down and talk with a major lobbying firm that had an "unnamed client" as well as the Associated Builders and Contractors.
Steve Hancock and Steve White stayed in town over the weekend to meet with them and once at the table they were informed that the other side was concerned about defections from the GOP side to negotiate.  In the end, the legislation was killed and GOP leaders vowed to not introduce it again as long as licensing requirements were lowered for residential technicians.
This came about due to the hard work and activism of SMART members and Local 33 – along with the solidarity shown from other trades and Local 24.