Ga. SLD Campbell testifies at EPA carbon hearing
SMART Transportation Division Georgia State Legislative Director Matt Campbell testified before the U.S. Environmental Protection Agency July 29 in Atlanta, addressing the concerns of the union and its members regarding the agency's proposed Clean Power Plan.
In its proposed rule, the EPA is proposing state-specific rate-based goals for carbon dioxide emissions from the power sector, as well as guidelines for states to follow in developing plans to achieve the state-specific goals.
The rule seeks to reduce carbon dioxide emissions from existing fossil fuel-fired power plants in the United States.
The EPA plan would reduce carbon emissions from the power sector by 30 percent nationwide and reduce particle pollution, nitrogen oxides and sulfur dioxide by more than 25 percent.
Campbell noted that the transportation of coal by U.S. railroads is vitally important to the welfare of the members he represents.
"We are concerned and we care about this issue because of the impact this plan will have on our jobs and our future. There are 25 freight railroads in Georgia that employ thousands of people. These are not temporary jobs – they are careers. These people's – my co-workers, your neighbors – precious careers are in jeopardy because of the hit being taken by the coal industry," Campbell said.
Campbell noted that nearly 40 percent of all freight railroad cars in the U.S. are coal cars, accounting for 25 percent of the freight rail industry's revenue and 20 percent of all freight rail jobs.
"Hauling coal is a big part of what our members do and it accounts for about 20 percent of all freight railroad jobs in America," said SMART Transportation Division President John Previsich. "Our state directors are playing a vital role in trying to make this proposed rule workable."
Alternate National Legislative Director John Risch noted that Pennsylvania State Legislative Director Paul Pokrowka and Colorado State Legislative Director Carl Smith would be also be testifying at EPA hearings in their home states this week.
Added Risch: "This proposed rule, coupled with EPA's recently enacted mercury rule, will cause one-third of our nations coal-fired power plants to shut down in the next six years."
"We are working with our allies in Washington on ways to make carbon capture and storage economically viable so coal remains a part of America's energy mix for the foreseeable future," National Legislative Director James Stem said.
Campbell went on to provide SMART Transportation Division's suggestions for amending the proposed Clean Power Plan, including providing states with credit for prior carbon dioxide reductions and delaying implementation of the plan by several years to allow states and affected sources adequate time to prepare and submit state plans.
"We believe that the rule is premature since we do not know the extent to which other nations, particularly large developing countries, will be willing to commit to a truly global program of greenhouse gas reductions," Campbell said. "We, America, cannot 'go it alone' and expect that our actions will have any meaningful climate impact in a world economy that is using more coal and other fossil fuels every day. Developing nations already emit more carbon dioxide than advanced industrial nations, and the Department of Energy projects that their share of global emissions will grow steadily, and will continue to do so, regardless of what the United States decides to do.
"Before I surrender the microphone, I want to make something clear. I love our environment and I am thankful for the clean air we breathe. That being said, I value my career on the railroad that allows me to provide for my family.
"As a middle class worker, speaking on behalf of other middle class workers, I plead with the EPA to listen to our recommendations and work to find a sensible, common sense solution that works for everyone."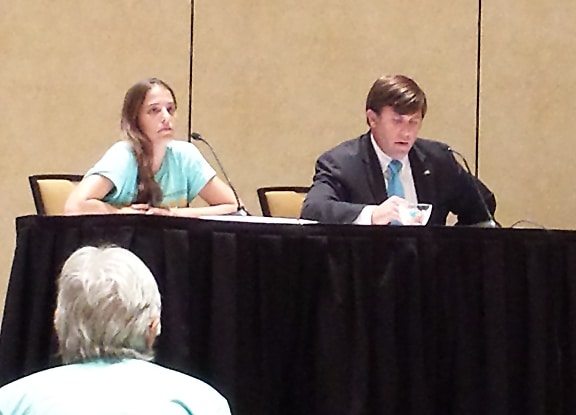 SMART Transportation Division Georgia State Legislative Director Matt Campbell, right, testifies at a U.S. Environmental Protection Agency hearing July 29 in Atlanta regarding the agency's proposed Clean Power Plan.