Canadian Prime Minister Launches Brazen Attack On Working Families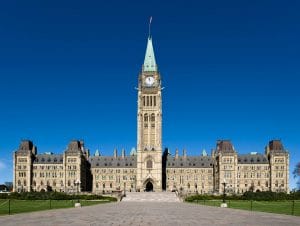 Using underhanded moves and tactics that would make only someone like Scott Walker proud, Canadian Prime Minister Stephen Harper, the Conservative Party leader, jammed a wide-ranging anti-union law through Parliament.
The law forces unions – and nobody else — to disclose every financial item, including who got paid and each payment's purpose. That includes otherwise-confidential licensing agreements and fees for professional services, such as the attorneys that unions use for contract negotiations.
Harper's law, enacted before expected parliamentary elections this year, drew outrage from seven of Canada's 11 provinces, the Canadian Labour Congress, its largest union – the Canadian Union of Public Employees – and other unions in the U.S.' northern neighbor.
CUPE called the law just one more reason for voters to oust Harper, a Conservative, from the prime minister's chair, and elect a New Democratic Party government. NDP is the leading opposition party in Parliament.
"Several senators tried to do their job and demonstrate that the Senate really is a chamber of second sober thought, but Prime Minister Harper appears to have thrown a temper tantrum, stepping in to rig the rules, shut down debate, and make things go his way," said CLC President Hassan Yussuff.
"It's a corrupt, cynical move that once more demonstrates that unions are far more democratic, transparent and accountable to their members than this prime minister and his government are to taxpayers," he added.
Harper's law also flies in the face of Canadian labor law. Canadian labor law is left more to the provinces. While their codes vary, most are much stronger than U.S. labor law, including card-check recognition, first-contract arbitration and heavier fines for law-breaking.
Harper jammed his law through the Canadian Senate by a 35-22 party-line vote in late June, just before Canada Day (July 1). It previously passed the House of Commons. The Senate rejected it before, but Harper used parliamentary tactics to force its reconsideration. And his party changed the Senate's filibuster rules to stop an opposition filibuster against it.
Inserted as a change to the Canadian tax code, the new law requires detailed union financial reports on salaries, grants, lobbying efforts, and the amount of time its employees and contractors spent on "political activities, lobbying activities and other non-labor relations activities," its sponsor, a rank-and-file member of Parliament, says.
It also would force disclosure of individual financial transactions above $5,000, a CUPE fact sheet adds. That includes spending on labor relations, lobbying, politics, administration, overhead, collective bargaining, conferences and conventions, organizing and education and
training. Failure to follow it would be a criminal offense, with a $25,000 fine for each offense.
"