Additional SMOHIT Safety Award Winner Is Announced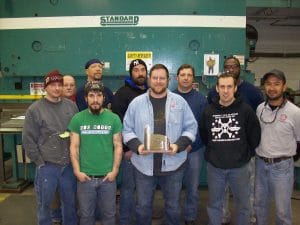 Darrell Wade, sheet metal shop foreman at Pierce and Associates in Alexandria, Va., has been selected as a recipient of SMOHIT's 2013 Safety Award, joining previous 2013 winners Kurt Christiansen of Southeastern Wisconsin, Ed Hoganson of St. Louis, Roger Fewkes of San Diego, Local 33 in Cleveland, RHP Mechanical Systems in Reno, Nev., and C&R Mechanical in St. Louis.
Wade used his knowledge and facility to collaborate with SMOHIT and MetaMedia Training International to create e-learning safety training programs and DVDs. "Four High Hazards," "Stressors in the Workplace" and "Safety Orientation" were created to give workers more information about how to ensure their safety in the workplace.
"Darrell and the crew at Pierce are always willing to help us with whatever we need to get the right shot, whether it's safely operating a forklift, welding in a confined space or showing proper hoisting and rigging techniques," SMOHIT Industrial Hygienist Charles Austin said. "MetaMedia Training International has always felt comfortable when calling on Pierce Associates for safety programs developed for SMOHIT."