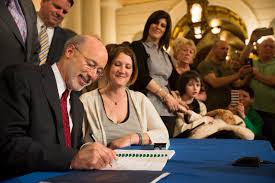 Last month, Pennsylvania Governor Tom Wolf signed PA HB 319 into law which will provide nearly 44,000 additional workers with with insurance in the event they lose their job or are unable to find new work opportunities.

The legislation will ensure that workers, especially those in the construction trades, will have access to the same unemployment funds other workers in year round industries do. Because of the Pennsylvania climate, workers employed in the state's construction industry are more likely to rely on these funds to make it through the winter months.
The previous rule mandated that 49.5 percent of wages must be earned outside the highest quarter of earning for an individual to receive unemployment insurance. This percentage was prohibitively high and left many in the construction industry without unemployment protection.
The change made in this legislation, lowering that bar to 37 percent of wages earned outside the highest quarter, removes a significant barrier to receiving benefits and will allow Pennsylvania families and workers to receive what they have earned and paid into.