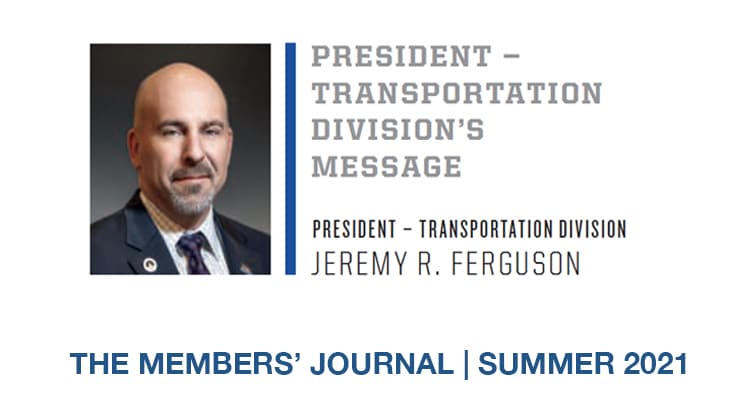 2017 Agreement Remains in Effect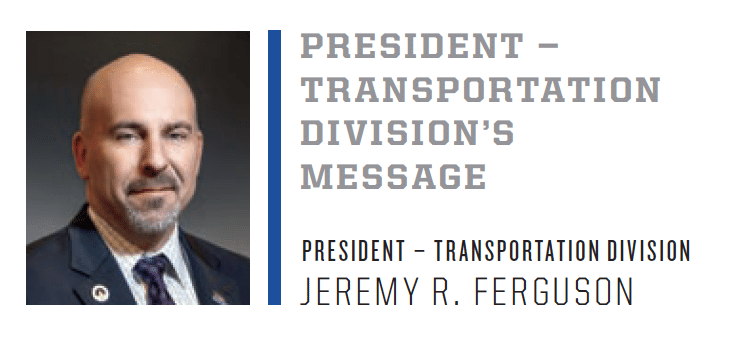 IIn recent months, some have asked, "Why am I working without a contract?" The simple answer is: "You are not working without a contract." Under the Railway Labor Act (RLA), a contract never expires, it is only amended or changed. This means all working rules, conditions and pay rates must remain in place (status quo) until such time rail labor ratifies a new, or should I say, an amended agreement.
Sometimes this can be a long process under the Act — if you still have your copy of the January/February TD News (it's also available as a PDF on our website), there were two pages devoted to explaining the ins-and-outs of the national negotiation process. It is not uncommon for the negotiations to take time, and it should come as no surprise that the carriers are not beating down our doors to ensure you get a well-deserved pay raise as soon as possible.
Some have also asked, why don't we have a contract yet? COVID-19 has definitely played a role in delays as it made it impossible to put 100-plus people from both our 10-union Coordinated Bargaining Coalition (CBC) and the carriers in one room to negotiate in our traditional methods. Additionally, our coalition previously notified the membership of our respective organizations that thus far, no proposals from the carriers have warranted anything worthy of putting forward to the membership for ratification.
Thus far, no proposals from the carriers have warranted anything worthy of putting forward to the membership for ratification.
As of this date, nothing has changed. As COVID restrictions are now being lifted, your negotiating committee looks forward to being able to once again meet face to face at the bargaining table with the carriers where we hope it will be much more productive than video meetings.
Negotiations are complex and involve a number of consultants and working groups that are reviewing economic data, health and welfare issues, and in some instances impacts and/or costs to either side of the equation.
We must keep in mind that an agreement by its very nature requires both sides to actually agree. How often do you agree with what your railroad does?
Now put all the railroads in one room with most of labor sitting on the other side of the table — it becomes a laborious process, to say the least. But the RLA will serve its purpose, and the parties will eventually hash out a deal. In the meantime, everything in your agreements that are currently in effect must remain fully intact — your contract hasn't expired. Please note the bold language below from your 2017 National Agreement:
This Agreement shall be construed as a separate agreement by and on behalf of each of said carriers and their employees represented by the organization signatory hereto, and shall remain in effect through December 31, 2019 and thereafter until changed or modified in accordance with the provisions of the Railway Labor Act, as amended.
The "term of this agreement" was defined to run from Jan. 1, 2015, through Dec. 31, 2019. The framers of the agreement were simply establishing the dates and time period for purposes of pay raises, and nothing is construed to leave anyone under the RLA and our agreements "without a contract."
It is worth noting that negotiations for the 2017 agreement began with the filing of Section 6 notices in December 2014, and it then took 34 months before a tentative agreement was reached in October 2017 — that's a period of nearly three years and there wasn't a global pandemic to work through. The process does take time!
Another thing to note — only railroaders and airline employees fall under the Railway Labor Act. Airline pilots and flight attendants feel your frustrations when wanting to exercise a strike action against a carrier, the same as some of you probably do. We are a very specialized group and are governed under a very different set of rules than most other union workers.
The National Rail Contract negotiations are not the only thing on the agenda at this point in time, either. We have two other major national issues that are contract-related going at the same time, with the same railroads with whom we have to negotiate a national agreement.
One is the crew-consist moratorium dispute, which was arbitrated this month in Sacramento, Calif., on June 15th and 16th and was one of the largest groups I have ever seen in one arbitration session. Another major issue is our current health and welfare dispute, scheduled to be arbitrated Aug. 31 in Washington D.C. As I am sure you would agree, it is not easy to negotiate the direction of a new national agreement going forward into the future when we are having serious difficulties even agreeing with the carriers on what is in our previously agreed to contracts.
Your union is pushing ahead in these negotiations with all your best interests in mind, fighting to protect what you have and setting the stage to thrive in the future.
Some have asked why don't I update them more frequently about the status of negotiations? First of all, we, the 10-union coalition, won't negotiate via the media and will keep our game plans private within the union negotiating team. Football coaches do not go to the media talking about what plays they are going to run and what their strategies are before a game or as it is being played out. We cannot do that here either. I would also love to notify everybody anytime it looked like something positive was going to happen regarding a contract, but it would wear you out emotionally, especially if those positive possibilities never came to fruition. Furthermore, all the union presidents in this coalition have agreed that we will only update the membership collectively as one voice through joint updates so there is no confusion that we stand together in solidarity.
Your union is pushing ahead in these negotiations with all your best interests in mind, fighting to protect what you now have and setting the stage to thrive in the future. We are proving every day that solidarity is the only way to accomplish our goals in all issues, contractual or safety-related, on behalf of the membership.
We have accomplished a lot in a very short time, battled through a pandemic and an economic downturn, and are poised to set the stage for the future of the nation's freight rail industry in these negotiations. The updates will come in due time.
Until the CBC releases our next joint report, remain assured that your negotiators and leaders will remain as stong and proud as each and every one of you who has stepped up to the plate to make our union that much stronger in the name of safety, solidarity or both.

Jeremy Ferguson
President, Transportation Division