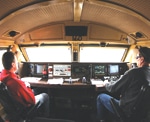 Support among railroaders, unions, states and others has come in the wake of last week's Federal Railroad Administration's (FRA) proposed two-person crew rule.
The proposed rule comes after a completed study by the FRA comparing two accidents: the Lac-Megantic, Quebec, derailment (operated by a one crewmember) and the Casselton, N.D. derailment (operated by three persons). After studying the two accidents, FRA determined that two-person crews are safer for all involved and published a proposed rule in the Federal Register.
Read more from People's World.