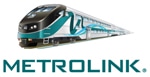 The Metrolink passenger railroad Thursday (Feb. 20) will become the first commuter service in the nation to roll out a sophisticated collision avoidance system designed to overcome human error.
Had so-called positive train control been in place five years ago, experts say, it would have prevented Metrolink's deadly Chatsworth crash. In that accident, an engineer missed a red stop signal while text-messaging on his cellphone and struck a Union Pacific freight train head-on. Twenty-five people died and 135 were injured.
Read the complete story at the Los Angeles Times.