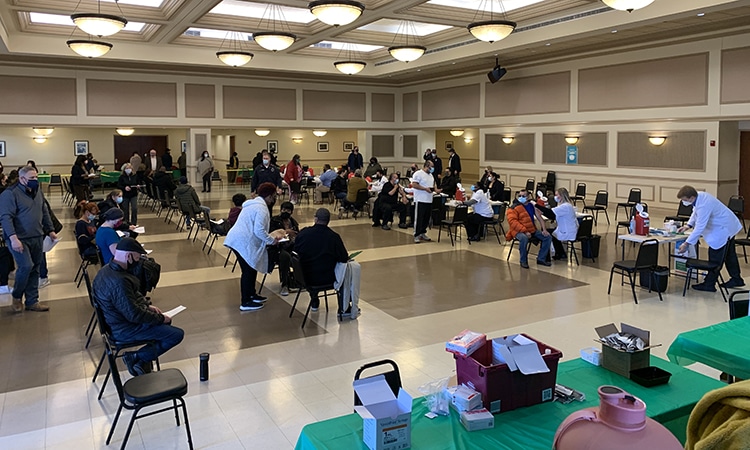 Photos by Dave Sylvester, Local 73
Hillside, Ill. – SMART SM Local 73 is partnering with Proviso Township and Jewel-Osco to provide added capacity for COVID-19 vaccine distribution efforts, with its union hall functioning as a vaccine injection site. More than 1400 vaccines were administered today between 9am and 4pm at the local hall in Hillside, just west of downtown Chicago, for residents of any of the 15 villages in Proviso Township.
"This wouldn't be happening in Hillside today without Local 73 stepping up and helping out," said Hillside Mayor Joseph Tamburino, who was at the vaccination site throughout the day. "They set the room up and did everything we asked them to do and it's fantastic. Their facility is just perfect for this."
The union hall effectively functioned as a one-day pop-up vaccine clinic. The site was thoroughly cleaned and prepped ahead of time and a sanitation crew will be coming Monday night and doing a deep clean of the space.
"This wouldn't be happening in Hillside today without Local 73 stepping up and helping out."

– Hillside (Ill.) Mayor Joseph Tamburino
"We are proud to partner with Proviso Township, Jewel-Osco and Mayor Tamburino to provide a safe, convenient location for members of our community to receive their vaccine," said Local 73 President and Business Manager Raymond Suggs. He added that the local is looking to help with additional vaccination days in coming weeks, depending on vaccine availability.
Nationally, SMART is part of a coordinated effort by U.S. building trades unions to make their facilities available to President Biden's COVID-19 Relief Task Force for U.S. vaccine distribution. In February, the Governing Board of Presidents of North America's Building Trades Unions (NABTU) voted unanimously to offer more than 5,000 union halls and training centers to the vaccine distribution effort.