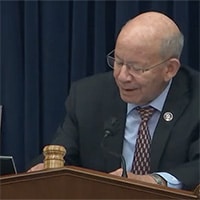 After a session that began the morning of June 9 and carried on overnight into the pre-dawn hours of June 10, the INVEST in America Act passed out of the U.S. House Transportation and Infrastructure Committee with two-person crew and other provisions important to SMART Transportation Division members intact.
"We are one step closer to success," SMART Transportation Division National Legislative Director Greg Hynes said. "This was a marathon session, but one that had the best possible outcome for our members. We thank the committee members for their work and now turn our focus to getting the legislation's passage in the full House."
The bill, H.R. 3684, a five-year, $547 billion surface transportation reauthorization bill, now moves to the full House for consideration after passing the committee 38-26. Two Republicans, Brian Fitzpatrick of Pennsylvania and Jenniffer Gonzalez-Colon of Puerto Rico, voted along with 36 Democrats on the committee to pass the bill.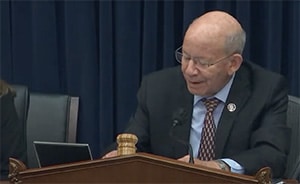 "I commend my colleagues for their hard work helping craft these two bills to deliver what Americans expect and deserve: safe roads and bridges, reliable transit options and a robust passenger rail network, wastewater systems that aren't on the brink of failure, and a commitment to address the existential threat of climate change," said Chair Peter DeFazio (D-Ore.). "In many ways, the choice couldn't be easier—because the best part of rebuilding our infrastructure for the modern era is the incredible opportunity for our nation that comes with it. We're talking millions of good-paying jobs that can't be exported, real and sustained support for U.S. manufacturing, and the chance to make our nation a world leader once again. This is a once-in-a-generation opportunity that we can't afford to miss."
H.R. 3684 contains many provisions important to SMART-TD members.
The bill triples funding for Amtrak to $32 billion, allowing for enhanced service, ADA upgrades, and investments to renew and support service on the Northeast Corridor and long-distance and state-supported routes. Similar to a 2020 version of the bill, provisions of the legislation mandate two-person freight rail crews and take steps to address the problems of bus operator and transit worker assault as well as other issues faced by SMART-TD's bus, rail and transit members.
Early Thursday, U.S. Rep. Scott Perry of Pennsylvania withdrew Amendment 091 that would have struck the two-person crew freight requirement.
Before his withdrawal, Perry argued in a glitchy video that Positive Train Control and technology made creating a federal crew standard unnecessary.
"It should be one or the other, not all the technology and then also with all the manpower. All it does is add additional cost to the freight rail system and the cost to consumers," he said before his withdrawal.