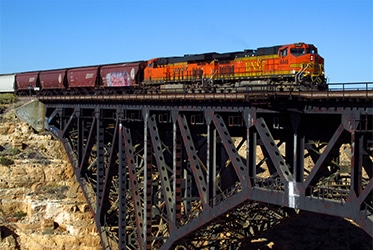 CLEVELAND, Ohio (April 5) — Five Republican U.S. representatives have contacted the BNSF Railway and encouraged its CEO to reengage with its operating unions to alter the highly-restrictive and punitive "Hi-Viz" attendance policy.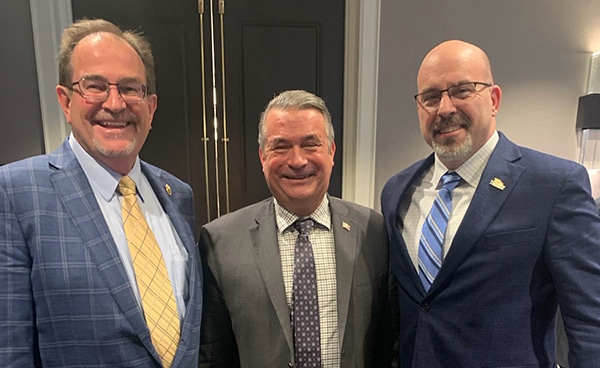 In a letter to Brotherhood of Locomotive Engineers and Trainmen (BLET) President Dennis Pierce, SMART Transportation Division (SMART TD) President Jeremy Ferguson and BNSF CEO Katie Farmer, the representatives encouraged a reengagement over the punitive policy, which docks employees for taking time off for medical appointments or funerals.
"We write today out of concern for BNSF Railway's recently established absenteeism policy, called 'Hi-Viz,' and the growing number of resignations that have occurred since its implementation," the representatives wrote. "Even a modest number of those resignations may pose additional stress to our already strained supply chain."
Among the letter's signatories were Rep. Don Bacon of Nebraska, who met with President Pierce and President Ferguson on April 4 at a meeting of the Transportation Trades Department, AFL-CIO (AFL-CIO TTD) Executive Committee, the nation's largest transportation labor coalition. Others signing included Brian K. Fitzpatrick of Pennsylvania, David McKinley of West Virginia, Jeff Van Drew of New Jersey and Chris Smith, also of New Jersey.
The Hi-Viz attendance policy requires rail workers to be available to work 29 of 30 days or risk being penalized. Thousands of well-paying unionized railroad jobs have been cut since implementation of the PSR strategy began in 2017. The Hi-Viz policy by BNSF and draconian attendance measures used by Class I railroads have led to additional attrition and a worker shortage as carriers try to undo the self-inflicted reductions they've made. President Pierce and President Ferguson said more than 700 BNSF operating employees have resigned since implementation of Hi-Viz on February 1, 2022.
The representatives concluded their letter by urging the BNSF to reengage in good-faith discussions with its unions to develop a more mutually acceptable attendance policy.
"We urge both sides to reengage in good-faith discussions to achieve a policy that works for all," they wrote. "Only by working together can meaningful policies be developed, and mutual resolutions achieved … We view this as a crucial priority to maintaining a robust transportation system and a healthy supply chain."
A PDF of the five representatives' letter regarding Hi-Viz is available.
###
The SMART Transportation Division is comprised of approximately 125,000 active and retired members of the former United Transportation Union, who work in a variety of crafts in the transportation industry.
The Brotherhood of Locomotive Engineers and Trainmen represents nearly 57,000 professional locomotive engineers and trainmen throughout the United States. The BLET is the founding member of the Rail Conference, International Brotherhood of Teamsters