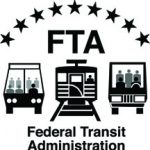 WASHINGTON – The U.S. Department of Transportation's Federal Transit Administration (FTA)  announced a proposed rule to establish a Public Transportation Safety Program under FTA's new safety oversight authority established by the Moving Ahead for Progress in the 21st Century Act (MAP-21). The proposed rule would create an overall framework for FTA to monitor, oversee and enforce safety in the public transit industry, and is based on the principles and practices of Safety Management Systems (SMS).
"Every day, millions of Americans take public transportation to get to work, school, medical appointments, and other important destinations," said U.S. Transportation Secretary Anthony Foxx. "This new program will help us ensure that transit continues to be a safe way to get around, and a safe place to work."
The proposed rule would implement FTA's authority to conduct inspections, audits, and examinations; testing of equipment, facilities, rolling stock, and the operations of a public transit systems; and for FTA to take appropriate enforcement actions, including directing the use or withholding of Federal funds and issuing directives and advisories. The rule would establish SMS as the foundation for FTA's safety program, which focuses on organization-wide safety policy and accountability, proactive hazard identification, and risk-based decision-making.
The proposed rule also defines the contents of a National Public Transportation Safety Plan (National Safety Plan), which FTA expects to publish in a separate Federal Register notice for public review and comment in the next several months. The National Plan will include safety performance criteria for all modes of public transportation, minimum safety performance standards for transit vehicles used in revenue operations, the definition of "state of good repair," a Safety Certification Training Program, and other content determined by FTA.
"With transit ridership at its highest levels in generations, and our nation's transit agencies facing increased pressure to meet the demand for service, we must continue to ensure that safety remains the top priority," said FTA Acting Administrator Therese McMillan. "This rulemaking is a major step forward in establishing FTA's safety regulatory framework, as all future safety-related rules, regulations and guidance will be informed by the Public Transportation Safety Program."
Public comments on the proposed rule must be received by October 13, 2015.
Earlier this year, FTA announced a proposed rule to increase oversight responsibilities of State Safety Oversight Agencies (SSOAs) for rail transit systems, and the publication of a final interim safety certification training program. By early 2016, FTA expects to issue a final SSOA rule, as well as a notice of proposed rulemaking to establish permanent training provisions.