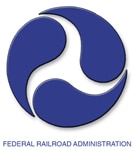 WASHINGTON – The Department of Transportation's Federal Railroad Administration (FRA) March 13 issued a Railworthiness Directive requiring railroad tank car owners to replace unapproved valves currently installed in some tank cars. The valves in question are UNNR ball valves manufactured and sold by McKenzie Valve & Machining LLC (McKenzie). Recent FRA investigations revealed that the valves were not approved for use on railroad tank cars. Additionally, the three-inch ball valve, when not properly configured, is leading to tank cars leaking small quantities of hazardous materials.
The problem was first discovered when multiple FRA investigations identified several railroad tank cars leaking small quantities of hazardous materials. One instance occurred during the week of Jan. 11 and involved a train of 100 tank cars loaded with crude oil being transported by BNSF Railway Company (BNSF) from Tioga, N.D., to a refinery in Anacortes, Wash. BNSF discovered 14 tank cars leaking crude oil on the route. The FRA then inspected seven of the identified leaking tank cars that BNSF removed from the train in Vancouver, Wash.
The FRA inspector observed each of the tank car's top fittings and found product leaking from the liquid line ball valves and around each valve's closure plug. Further tests conducted by the FRA found that certain closure plugs installed on the three-inch valves caused mechanical damage and led to the destruction of the valves' seal integrity. In addition, testing found that when a three-inch closure plug was applied and tightened in the three-inch McKenzie valve, the plug contacted and damaged the ball. Further testing revealed that the application of downward force on the valve ball applied by the three-inch plug resulted in the over-compression, damage, and misalignment of the inboard seal, causing the valve to leak.
While additional tests conducted by FRA concluded that McKenzie one-inch and two-inch ball valves do not appear to present the same safety concerns as the three-inch valves, they are not approved for use on railroad tank cars and must also be replaced. To date, FRA is not aware of any non-accident releases or other releases from railroad tank cars involving the one-inch or two-inch ball McKenzie valves.
Federal regulations require all valves applied to tank cars must be of an approved design by the Association of American Railroads (AAR) Tank Car Committee. FRA's investigations demonstrate clear inconsistencies between the type of valve design that AAR approved versus the design of the valve actually being used, which raises questions about the approval process and a manufacturer's adherence to an approved design type.
The FRA will immediately begin working with AAR to commence a full audit of the Association's process for approving tank car valves and other components in order to prevent incidents like this from occurring again.
"Ensuring the safe transport of hazardous materials is a top priority for the Department of Transportation," said U.S. Transportation Secretary Anthony Foxx. "I expect this audit to force a stricter adherence to the structures in place to keep our railways safe."
The Directive requires all tank car owners to remove, within 60 days, any three-inch McKenzie UNNR ball valves in tank cars used to transport any hazardous material described in 49 CFR 172.101. Further, the Directive requires all tank car owners to remove the one-inch and two-inch valves within 90 days. The Directive requires tank car owners to replace the valves with valves approved for use on railroad tank cars. Since 2009, McKenzie sold approximately 11,200 of the three-inch valves to a variety of tank car owners and tank car facilities. FRA estimates that approximately 6,000 DOT Specification 111 railroad tank cars are equipped with the unapproved three-inch McKenzie UNNR valves. In addition, McKenzie indicates that it has sold more than 37,000 one-inch and two-inch valves to a variety of tank car owners and tank car facilities. The removal and replacement of these valves are not expected to significantly disrupt freight rail traffic.
Although the precise amount of hazardous materials released due to the use of these unapproved valves cannot be quantified, FRA investigations and subsequent testing have determined that only small amounts of hazardous materials could have escaped through the unapproved valves. "Any type of hazardous materials release, no matter how small, is completely unacceptable," said Acting Federal Railroad Administrator Sarah Feinberg. "The removal of these valves from service will help to reduce the number of non-accident hazardous materials releases."
After tank car owners have remove the unapproved valves on each affected tank car, and replaced and tested new components, they may once again use the tank cars to transport hazardous materials. Alternatively, if upon an adequate showing demonstrating the safety of the one-inch and two-inchvalves, McKenzie obtains approval for the use of those valves on tank cars, cars equipped with these one-inch or two-inch McKenzie valves may be returned to hazardous materials service.
A copy of the directive can be viewed here.