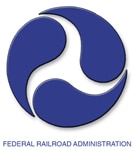 FRA is issuing this safety advisory to emphasize the importance of timely repairing ballast defects and conditions on main tracks. FRA notes that ballast defects and ballast conditions that are not repaired in a timely manner can lead to future defects.
FRA believes it is important for track inspectors to be aware that ballast defects and conditions can cause track components to deteriorate rapidly and compromise the stability of the track structure, and that inspectors are trained to identify and repair ballast defects and conditions.
This safety advisory recommends that track owners and railroads: (1) Assess current engineering instructions on ballast safety and update them to provide specific guidance to track inspectors (designated personnel that are qualified to inspect and repair track) on how to identify and initiate remedial action under 49 CFR 213.233(d) for ballast defects and conditions, as well as on the appropriate remedial action to implement, particularly in areas with one or more additional track conditions; (2) train track inspectors on the updated engineering instructions and this safety advisory to ensure they understand how to identify and initiate remedial action for ballast defects and conditions in a timely manner, and understand the importance of such remedial action in preventing the development of unsafe combinations of track conditions; and (3) ensure that supervisors provide adequate oversight of track inspectors to achieve identification and remediation of ballast defects and other track conditions.