"First Student bus drivers and mechanics from Local 1908 are so much more than just people who get your children to and from school," said Local Secretary Joann Ehrhardt.
If you need proof, just ask some of those children.
After a Buffalo, N.Y., School District family of six lost everything to a Dec. 1 house fire, the members of Local 1908 set their holiday wheels in motion.
It all started when Pam Przybylak, the manager at First Student's Gruner Road Terminal, posted a flyer looking for donations for the family.
Local 1908 members, along with management employees and Buffalo Board of Education bus aides, were suddenly transformed into Santa's elves.
"Pam gave us a list of the children's ages and clothes sizes, and people just went shopping," Ehrhardt said. "We collected presents for the whole family, along with non-perishable food items."
"Some people collected food from a local food bank, some donated cash and others picked up donated items from one member's church."
On Dec. 21, the presents, food, blankets, towels and more were delivered to the family.
"One of the bus aides even bought a Christmas tree, and another bought ornaments, and they actually decorated the tree for them," Ehrhardt said.
"This truly was collaborative effort," Ehrhardt added. "Everybody in our terminal contributed.
It's really nothing new at Local 1908. First Student employees also adopted a family, whose father had recently lost his job, and delivered gifts and food to them. "We usually call Catholic Charities and get the name of a family in need, along with children's clothing sizes and whether they have boys or girls," Ehrhardt said. "We do that every year."
The local also represents drivers in the communities of Cheektowaga and Williamsville and bus mechanics in Rochester.
Ehrhardt said that at a recent local meeting, one of the Local 1908 members asked why their local was never in the UTU News, "so I thought I would send this in."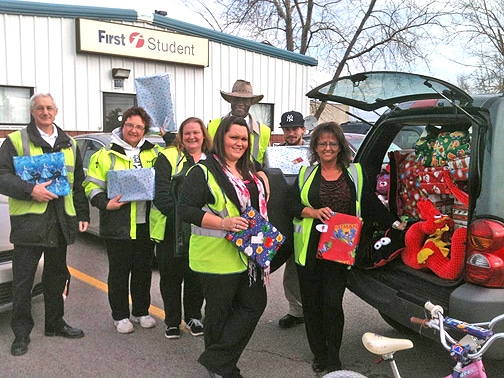 First Student employees at Buffalo, N.Y., load the sports utility vehicle that served as Santa's sleigh
after they decided to deliver Christmas to a family that lost everything in a house fire.