A senior Ohio Democrat promises that if Republicans there are successful in passing legislation to revoke collective bargaining rights for public employees, a ballot initiative would be drafted to repeal the law in the next general election, reports the Columbus Dispatch newspaper.
In Wisconsin, Democrats Feb. 22 remained absent from the state, leaving Republicans without a lawful quorum to pass similar legislation revoking collective-bargaining rights for public employees. Republicans hold a majority in both chambers of the legislature.
The South Central Wisconsin Federation of Labor, representing 45,000 union members in the Wisconsin capital of Madison, said Feb. 22 it is considering a "general strike" if the bill becomes law.
Wisconsin state Rep. Mark Pocan, a Democrat, said, "In one fell swoop, Gov. Walker is trying to institute a sweeping radical and dangerous notion that will return Wisconsin to the days when land barons and railroad tycoons controlled the political elites in Madison."
In Indiana, state House Democrats are boycotting a legislative session considering similar legislation (HB 1468), vowing to remain away and prevent a quorum until they have assurances from Republicans that the bill will not be brought forward when they return, according to the Indianapolis Star newspaper. Republicans hold a majority in both legislative chambers.
Indiana Republican Gov. Mitch Daniels, who supports the legislation, told the newspaper he would not send state police to "round up" the Democrats because they have every right to deny Republicans a quorum to do business."
In Ohio, the Senate Labor Committee is considering legislation — SB 5 — to revoke collective bargaining rights for public employees amid growing protests against the bill. Some 15,000 demonstrated in Columbus, Ohio's capital city, Feb. 22, as the Republican-controlled Labor Committee heard testimony on the bill.
Because Republicans hold a majority in both chambers of the Ohio legislature, and because of the size of the Republican majority, Ohio Democrats cannot prevent a quorum by boycotting the legislative session. No date has been set for a vote on SB 5.
Should the legislation pass in Ohio, Democratic Chairman Chris Redfern told the Columbus Dispatch, "We will repeal it at the ballot box, and that will happen. That is the great fear the Republican Party has right now, because of the overreach they're playing out right now."
Also speaking out was JoAnn Johntony, president of the Ohio Association of Public School Employees, who told the Columbus Dispatch, "I believe Gov. Kasich decided he wants to squash unions and found a creative way to do it, but he has to realize that we've fought this battle before and he will not stop us because we will fight to the very end."
An Ohio Senate Republican, Timothy J. Grendell, also sounded a warning over the legislation. The Columbus Dispatch reported Grendell said the bill could end up costing the state money and should scare conservatives worried about private contracting rights.
"You're opening up a Pandora's Box to the principle that government can interfere with private contract rights when it suits government's purpose," Grendell told the newspaper. "If you're a conservative or a Tea Party person, you should be greatly concerned about that concept because today's collective bargaining agreement could be tomorrow's private business contract. I guarantee you litigation will be more expensive than collective bargaining."
Back to Wisconsin, the Capitol Times newspaper said in an editorial that Gov. Scott Walker, the architect of legislation to outlaw collective bargaining by public employees, "is making political choices, and they are designed not to balance budgets, but to improve his political position and that of his [Republican] party."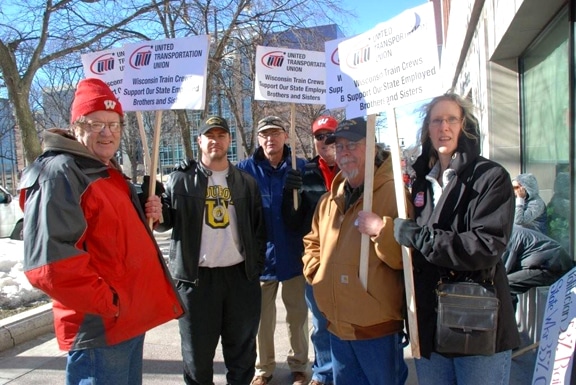 UTU protest pickets in Madison, Wisc. Pictured, from left, are retired Local 590 member Dan Stanley; Ben Deneen, GO 261 General Chairperson James Nelson; Local 590 Vice Chairperson Leath Sheppard; and Wisconsin State Legislative Director Tim Deneen and wife, Susan.