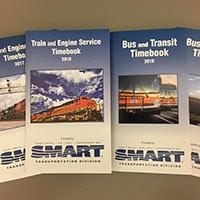 To Local Treasurers, Local Presidents and Local Chairpersons,
As you are aware, we are presently accepting orders for the 2021 time books and while these orders are being processed we are also reviewing the materials contained in the current booklet.
This booklet is utilized by you, the membership. As such, we are soliciting your ideas and feedback on how this office may update the booklet to greater serve the membership's needs/requirements.
Due to publishing requisites, you must submit any feedback by Sept. 4, 2020, to be reviewed by the committee.
Please send your submissions to Dora Wolf via email: dwolf@smart-union.org for consideration prior to the deadline stated above.
SMART – Transportation Division