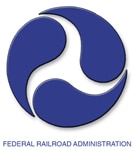 The Federal Railroad Administration announced Aug. 8 that it would hold an emergency meeting of the Railroad Safety Advisory Committee (RSAC) Aug. 29. The meeting will focus on the July 6 train derailment in Lac-Mégantic, Quebec.
Preliminary findings from the derailment and safety procedures that may not have been followed will be discussed.
RSAC was established in 1996 to provide advice and recommendations to the FRA on railroad safety matters and is composed of 54 voting representatives from 32 member organizations, representing various rail industry perspectives. There are also non-voting advisory representatives from the NTSB and Federal Transit Administration.
SMART Transportation Division has three members on the committee: Transportation Division President Mike Futhey, Transportation Division Assistant President and General Secretary & Treasurer John Previsich and National Legislative Director James Stem. Charles Fraley from SMART (Sheet Metal Workers) is also a member.
The 9 a.m. meeting is open to the public at the National Housing Center, 1201 15th St. N.W., Washington, DC 20005.