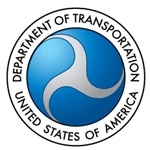 WASHINGTON – The U.S. Department of Transportation May 7 issued an emergency order requiring all railroads operating trains containing large amounts of Bakken crude oil to notify State Emergency Response Commissions (SERCs) about the operation of these trains through their states.
Additionally, DOT's Federal Railroad Administration and Pipeline and Hazardous Materials Safety Administration issued a safety advisory strongly urging those shipping or offering Bakken crude oil to use tank car designs with the highest level of integrity available in their fleets. In addition, PHMSA and FRA advise offerors and carriers to the extent possible to avoid the use of older legacy DOT Specification 111 or CTC 111 tank cars for the shipment of Bakken crude oil.
"The safety of our nation's railroad system, and the people who live along rail corridors is of paramount concern," said Transportation Secretary Anthony Foxx. "All options are on the table when it comes to improving the safe transportation of crude oil, and today's actions, the latest in a series that make up an expansive strategy, will ensure that communities are more informed and that companies are using the strongest possible tank cars."
Effective immediately, the emergency order (Docket Number DOT-OST-2014-0067), requires that each railroad operating trains containing more than 1,000,000 gallons of Bakken crude oil, or approximately 35 tank cars, in a particular state to provide the SERC notification regarding the expected movement of such trains through the counties in that state.
The notification must include estimated volumes of Bakken crude oil being transported, frequencies of anticipated train traffic and the route through which Bakken crude oil will be transported. The Emergency Order also requires the railroads provide contact information for at least one responsible party at the host railroads to the SERCs. The Emergency Order advises railroads to assist the SERCs as necessary to share the information with the appropriate emergency responders in affected communities.
FRA and PHMSA also issued a joint Safety Advisory 2014-01 to the rail industry strongly recommending the use of tank cars with the highest level of integrity in their fleet when transporting Bakken crude oil.
The Department of Transportation continues to pursue a comprehensive, all-of-the-above approach in minimizing risk and ensuring the safe transport of crude oil. FRA and PHMSA have undertaken more than a dozen actions to enhance the safe transport of crude oil over the last ten months. This comprehensive approach includes immediate and long-term steps such as: launching "Operation Classification" in the Bakken region to verify that crude oil is being properly classified; issuing safety advisories, alerts, emergency orders and regulatory updates; conducting special inspections; moving forward with a rulemaking to enhance tank car standards; and reaching agreement with railroad companies on a series of immediate voluntary actions they can take by reducing speeds, increasing inspections, using new brake technology and investing in first responder training.
The Association of American Railroads issued the following statement in response to the emergency order: "Freight railroads have for years worked with emergency responders and personnel to educate and inform them about the hazardous materials moving through their communities. These open and transparent communications will continue as railroads do all they can to comply with the Department of Transportation's Emergency Order."
Click here to view the emergency order.
Click here to view the safety advisory.