PHOENIX — The UTU's Arizona State Legislation Board and UTU members participated in a lobbying day at the Arizona state capitol here to protest the attack in numerous states on collective-bargaining rights, the right to join a union and payroll deduction of union PAC contributions.
The Day of Action was held in conjunction with other AFL-CIO unions, and was termed "the most successful lobby day" in Arizona labor history, said UTU State Legislative Director Greg Hynes. Dozens of UTU members participated alongside hundreds of brothers and sisters from other labor organizations
"All our members who attended either met with state lawmakers or delivered packets to their offices," Hynes said. The lawmakers were urged to vote against 20 separate anti-union bills being considered by the Arizona legislature.
The union brothers and sisters intend to continue their lobbying campaign in person and through Internet websites. Additionally, each union member participating filled out 10 postcards to be mailed to fellow union members.
A highlight of the day was the signing of a solidarity banner to be sent to Wisconsin public employees, who are the target of legislation in that state to revoke their collective-bargaining rights.
All UTU members paid their own way, Hynes said, sending a loud voice of protest to Arizona lawmakers and those in other states who are mounting an attack on labor that, according to public polls, is not supported by a majority of Americans.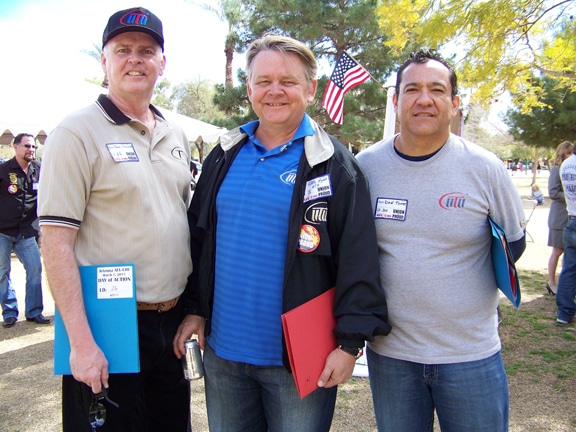 UTU members participating in the Day of Protest in Phoenix this week include, from left, Assistant State Legislative Director David Shearer (UTU Local 807), State Legislative Director Greg Hynes and Local 807 Vice Local Chaiperson Dan Torres.