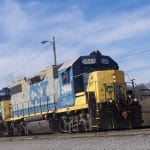 A week after railroads lost an appeal against the U.S. Department of Transportation's new brake requirements, CSX Corp. (NYSE: CSX) has reinforced its stance against the new program.
The new brake rules were issued by the DOT in May, and included phasing in tougher tank car standards and new electronically controlled pneumatic braking systems on any trains carrying more than 70 cars of crude oil by 2021. On November 11, the agency's Pipeline and Hazardous Materials Administration denied appeals against the rules.
Read more from Jacksonville Business Journal.