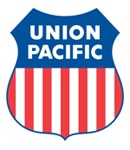 Union Pacific has announced that a 50-year-old man that works in UP's Bailey Yard in North Platte, Neb., has tested positive for COVID-19. The employee and a number of co-workers who came into contact with him are currently quarantined at home.
It's suspected that the man got the virus while traveling to California and vacationing on a cruise ship. UP reports that the man's work areas have been disinfected and sanitized.
"It's unfathomable that rail carriers have not yet implemented all CDC guidelines regarding sanitation and COVID-19 prevention efforts from the outset," SMART Transportation Division President Jeremy Ferguson said. "We are making every effort during this Federal Railroad Administration-declared emergency to get our membership and rail workers the protections they need."
The man's name has not been released.
Click here to read more from The North Platte Telegraph or from NBC Nebraska.