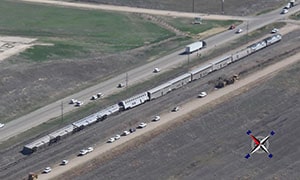 The rail provisions in the INVEST Act (H.R. 2), recently passed by a House Committee, are the largest and most comprehensive attempt to address public and employee safety and security in the transportation industry. These sweeping provisions will directly benefit the health and safety of your fellow SMART members.

Once enacted, the Act would require two-person crews on all freight trains, with few exceptions; cover Yardmasters under Hours of Service; outline a strategy for Amtrak to move away from being "profit" based to being "service" based; add a study of safety impacts of long trains and Precision Scheduled Railroading; require brakes subject to leaking in the cold be pulled out of service; create additional oversight on the failure of PTC systems; direct the FRA to better include labor in accident investigations; deploy a federal standard to reduce blocked grade crossings; add crew size and train length to FRA accident reports; address assaults on bus and transit drivers and operators; and, add a labor member to the Amtrak Board of Directors.
Please click this link to send a message to your US Representative. Time is short as this legislation is due to be considered in the coming days.