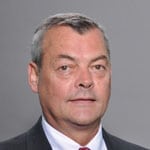 By John Previsich, 
SMART Transportation Division President – 
Employment for our members in the transportation industry is distinguished in many respects. Regardless of mode – air, bus or rail – it is primarily an industry that operates 24 hours per day, seven days per week, 365 days per year, with its employees often unscheduled and subject to call at a moment's notice. It is not unusual for transportation employees to have no scheduled days off, no advanced knowledge of whether they will be working or at home on a holiday, birthday or other special event, and no way of knowing when asked by friends or relatives what they are doing next week, this weekend, or even tomorrow.
While such conditions may appear to be very different than those of our members in other, more scheduled work environments, one need only look at the commonalities between the industries to see that our members in the Transportation Division have much more in common with our Sheet Metal brothers and sisters than may be evident at first look.
To begin with, nearly all members of the SMART organization are professionals who work highly skilled positions in a safety sensitive environment. Whether working on a job site in the construction industry, operating machinery in a production environment or moving passengers or freight on trains, planes or buses, our members hold responsible positions that require a great deal of training and education.
All of the craftwork is safety sensitive and unforgiving – from a misstep on a job site to a lapse of concentration while operating a locomotive or landing a plane, to a momentary diversion of attention while operating a bus or a production machine, the results of an error can be catastrophic.
That is why adequate training is such an important part of what we strive for, from the union-operated training facilities to the continual and rigorous oversight of our training agreements on the transportation properties that we represent.
But training by itself isn't enough. In addition to our members mastering their crafts and showing up for duty adequately trained and prepared to work, safety also depends on proper workplace management, a responsibility that rests squarely on the shoulders of the companies and owners for whom we work.
Far too often, we hear of incidents where management blames the worker instead of the faulty work site. Far too often, the union has to step in and remind the regulatory agencies of their oversight responsibilities and, far too often, our members suffer from the unsafe work environments handed to us by our employers and for the lax regulation that allows such practices to continue.
It is the responsibility of management to provide us with a safe place to work and your union is second to none in advocating for improved safety on behalf of its membership.
This advocacy to improve safety is an area that well illustrates the benefits that can be derived from the synergy of the merged organizations. Both of our predecessor unions possess expertise in training, safety and regulatory affairs. That expertise, when coupled together, is expected to be more effective working as an integrated unit than either was before.
We hope to learn from each other, taking advantage of the skills that both unions bring to the table, to be stronger than ever in ensuring the safe workplace to which our members are entitled. This process has already commenced, with our legislative departments collaborating on safety issues at the federal, state and local levels. It is anticipated that these synergies will provide even more positive results as the integration progresses.