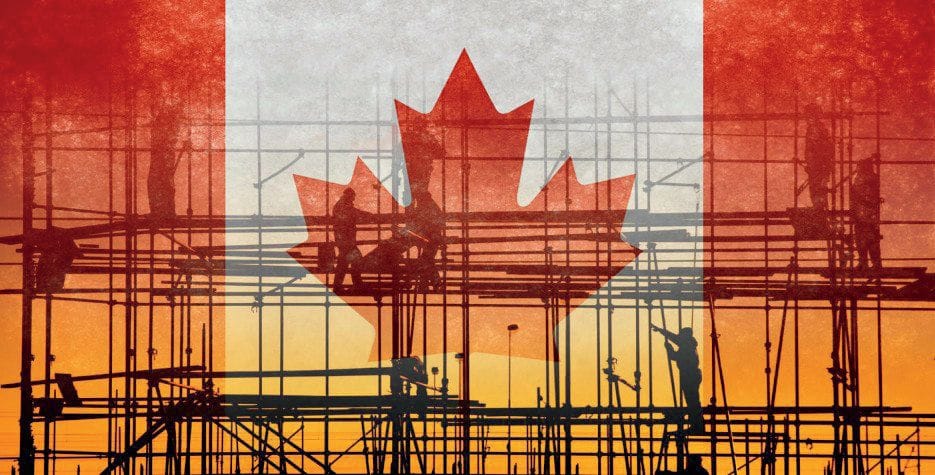 The Sheet Metal Workers' International Association (SMWIA — now SMART) began organizing roofers in the Toronto area in the early 1950s. It seemed like the perfect marriage, as sheet metal workers were already organized in most of the roofing shops. The roofers worked long days with no benefits, poor working conditions and sub-par wages — $1.20 per hour at the time.
It was Thursday, Nov. 12, 1952 when roofers in Toronto held their historic meeting and reported that union certification had been received at four firms: Cloke Construction, Apex Roofing, Heather & Little and A.E. Furnival. Roofers who worked for R.S.C. Bothwell, the Board of Education and Plewman were also present at the meeting. A motion was made that a committee investigate roofer classifications and draw up a collective agreement to officially bring roofers into the SMWIA.
This was the beginning of 70 years (and counting) of solidarity and craftsmanship in the roofing industry, with union members standing shoulder to shoulder.
On the following evening, Nov. 13, the inaugural meeting was held, and the first SMWIA roofing officers were elected. The new roofer representatives were President Wm Munroe, Vice President Sandy McLeish, Financial Secretary J. Johnson, Recording Secretary R. MacMahon, Warden F. Guerin and Conductor L. Cadieux. This was the beginning of 70 years (and counting) of solidarity and craftmanship in the roofing industry, with union members standing shoulder to shoulder and working diligently to represent the best interests of these skilled workers. Today, almost every local in Canada has roofers in its membership.
The roofing industry has seen many changes over the last seven decades. Coal tar pitch, steep pitch and Trinidad asphalt were used back in the 1950s. Now we have conventional and inverted roofing systems, EPDM and single-ply PVC. Green roofing is now populating the skyline; builders are installing green roofs on their projects not just because they are visually appealing, but to help reduce greenhouse gases and to improve air quality. As the government looks to reduce emissions and retrofit buildings, the roofing sector will continue to thrive. The skills of our members will be increasingly in demand.
The Infrastructure Health & Safety Association's (IHSA) Roofing Trade Committee has been active in producing safety manuals and public periodicals to help keep roofs safe. The committee's work includes a health and safety manual, heat stress brochures and advisories on roof openings and skylights. The roofing industry is constantly changing, and SMART and its members are committed to organizing and improving the health and safety of all roofers.
Today our members provide their services for new roof construction, roof repair, restoration, maintenance and roof replacement using the most up-to-date methods and roofing technologies. Every two years a national roofing apprenticeship competition is held, where roofing members from all over Canada come together to compete and showcase their skills. This year's roofing competition will be held in Newfoundland this August. I want to wish the best of luck to all the competitors.
We've come a long way in 70 years. Congratulations on seven decades of solidarity!!
Fraternally,

Chris Paswisty
Director of Canadian Affairs