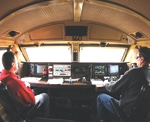 Governor Jerry Brown of California September 8, 2015, signed into law bipartisan legislation requiring that all freight trains and light engines are operated by a crew of at least two individuals.
SMART Transportation Division National Legislative Director, John Risch, praised the new law: "I am very pleased that California has joined Wisconsin, Arizona and West Virginia in adopting these sensible requirements. This is a matter of public safety, plain and simple. Freight railroad operations are complex and often entail the transport of highly hazardous materials, such as crude oil, chlorine gas and many other chemicals; two crew members are vital to ensuring that these trains are operated safely and our communities are secure."
Risch also praised those responsible for crafting and passing the legislation: "Many thanks go to Senator Lois Wolk for her sponsorship and to J.P. Jones and Mike Anderson of the SMART Transportation Division California State Legislative Board for their work explaining the importance of this legislation to California lawmakers."
The law is supported by the California Public Utilities Commission (CPUC), which reports that of all the industries subject to its oversight – energy, water, telecommunications and transportation – rail accidents result in the greatest number of fatalities each year. In advocating for the bill, CPUC Deputy Director of the Office of Rail Safety, Paul King, said, "Senator Wolk's bill would ensure that freight trains continue to have the safety redundancy that a second person provides. Such redundancy is a fundamental safety principle that is evidenced in certain industries, such as using two pilots in an airplane cockpit, or requiring back-up cooling systems for nuclear reactors."
Congressman Don Young of Alaska has introduced legislation at the federal level – H.R. 1763, the Safe Freight Act – which would similarly require that all freight trains are operated by a minimum of two individuals, a certified conductor and a certified engineer. On April 14, 2015,
H.R. 1763 was referred to the House Transportation and Infrastructure Subcommittee on Railroads, Pipelines and Hazardous Materials.