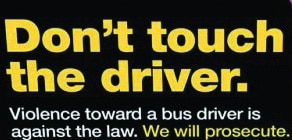 According to a story by The Spokesman-Review, bus operators employed by the Spokane Transit Authority (STA) in Spokane, Wash., have seen an increase of assaults by riders.
According to the Amalgamated Transit Union Local 1015, which represents the STA operators, there's been seven incidents since December. Bus operators have reported multiple cases of verbal abuse, physical abuse, spitting and threats.
Click here to read more from The Spokesman-Review.
Over the past couple of years, SMART TD has been trying to help bus operators mitigate assaults by providing training at regional meetings on how to de-escalate conflicts. SMART TD has also been lobbying for stricter laws to protect all bus operators from assault.