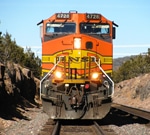 GRAND FORKS — BNSF Railway Co., the largest railroad in North Dakota, is furloughing some employees across its network, including in Mandan and elsewhere in the region.
"Customers' volumes in the near term have come down somewhat from their prior estimates; as a result we are having to adjust our workforce demand numbers down to match volume and the work required to move that volume," BNSF spokeswoman Amy McBeth wrote in an email. "As part of that, we are reducing the hiring plans for the next several months and are, unfortunately, having to temporarily furlough some of our employees at different locations across our network."
McBeth said BNSF expects to call the furloughed employees back "as soon as business needs require," though she didn't have any specific figures on affected employees by region.
Read more from The Bismarck Tribune.