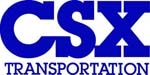 Shares of No. 3 U.S. railroad CSX Corp rose nearly 10 percent on Monday (Oct. 13) following a report of a rebuffed takeover bid by Canadian Pacific Railway Ltd (CP.TO), but analysts said any such deal would face significant regulatory and other hurdles.
"You could make the argument that there is not much overlap between the two networks and between their businesses," said Jim Corridore, head of industrials equity research at Standard & Poor's. "But they would face significant hurdles of getting a merger passed by the U.S. Surface Transportation Board (STB)."
Read the complete story at Reuters.