Local 14, Cincinnati, Ohio
CSX conductor Vincent "Vinny" Kelly, 38, died Jan. 24, GO 049 General Committee Secretary Erik R. Belew reports. He is survived by his wife of 17 years, Melissa; daughter, Brittany; and sons Joshua and Vincent.
Local 239, Oakland, Calif.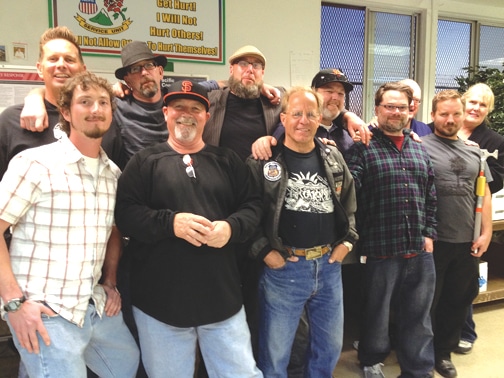 This Union Pacific local held a retirement barbecue March 15 at the East Oakland Yard office for former Local Chairperson, Delegate and General Committee Secretary Brian Lewis, who ended his 35-year railroading career Jan 1. The gathering, organized by Local President Tom Cahill, was attended by more than 50 current and former UTU members and retirees. Pictured, from left in the front row, are Matt Kurtz, Local Chairperson Dan Fretty (100), Lewis, Ted Olsson and Vice Local Chairperson Robert Hudson. In the back row, from left, are Local President Darin Spencer (100), Cahill, Lance Jenkins, Local Chairperson Dan Spencer, retired member Bob Paulson (1801) and yardmaster Leslie Dixon (1801).
Local 240, Los Angeles, Calif.
Local Chairperson Harry J. Garvin Jr. and the members of this local congratulate the following brothers who recently retired: conductor Brett D. Ray, March 18, after 33 years of service; conductor Herb M. Dean, March 1, after 33 years of service; conductor Mike L.M. Pierce, March 1, after 35 years of service and Georgia L. Davis, April 1, after 34 years of service. Garvin also noted the deaths of members Edward G. Sheehy, 79, and conductor Lloyd G.L. Williams, 59.
Local 243, Fort Worth, Texas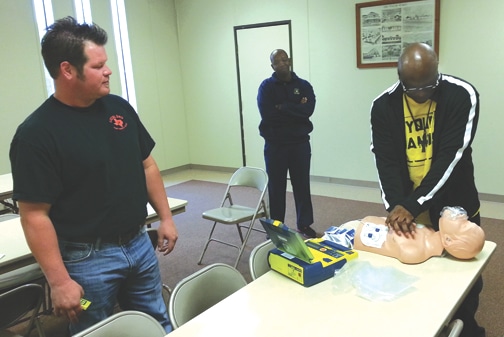 This local hosted a CPR class at its monthly meeting in April, where 12 members were CPR/AED-trained, according to member Steve Cline. Members that completed the training were entered into a drawing for a $50 gift card, which was awarded to Michael Taylor. Besides Taylor, Rickey Claiborne, DeAndre Anderson, Secretary & Treasurer Cameron Cullum and Vice Local Chairperson Mark Truelove and others received the certification, which was taught by fellow member Joshua Livingston. Pictured above, from left, are Livingston, Claiborne and Anderson.
Local 311, La Crosse, Wis.
Legislative Rep. Rick Hauser recently received a plaque from Local President Loren Molling in recognition of his hard work in educating local members about the importance of donating to UTU PAC. "Rick simply emphasizes to the members that they are entering one of the best job markets out there, and the UTU helped to create those high-paying jobs with great benefits," State Legislative Director Craig Peachy said. Hauser said his local has doubled its PAC contributions over the last few months. Legislative Rep. Bruce Przybylski of Local 312 at Madison, whose local was second in the nation in average contributions per member, per month, was also awarded a plaque, Peachy said.
Local 313, Grand Rapids, Mich.
Michigan State Legislative Director Jerry Gibson would like to thank everyone for their donations and prayers for his daughter, Kelsey, who was seriously injured in an automobile accident Jan. 29. "While she is out of critical care, has opened her eyes and can recognize voices, we still have a long road for a full recovery. I am so proud to be part of an organization that, regardless if we had ever met, would step up to the plate and assist each other in times of need. Anyone that has never belonged to a fraternal organization would never understand that feeling of unity," Gibson said. "Our family would like to extend a special thank you to Brother Don Silseth, who on his own, set up the fund for Kelsey."
Local 453, Clinton, Ill.
Decatur (Ill.) Trades and Labor Assembly President Carl N. Draper (768) and Local Secretary & Treasurer Lloyd Holman attended the unveiling of the new additions to the Workers' Memorial in Decatur. Each year April 28, the unions of the AFL-CIO observe Workers' Memorial Day to remember those who have suffered and died on the job and to renew their efforts for safe workplaces. This year, newly added names will be cut in stone instead of displayed on laminated sheets of paper. There are 108 names listed, 21 of which are railroaders, Holman said.
Local 506, Herington, Kan.
This trainmen's local has developed a website at http://smartlocal506.angelfire.com, according to Local President Rusty R. Beames. The website features contact information for local officers, local news, agreements, an explanation of the union's structure and more.
Local 446, Cheyenne, Wyo.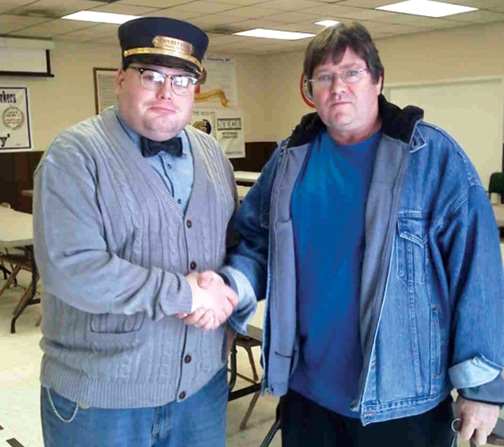 This Union Pacific local recently installed Joshua "J.P." Johnson as lodge historian, Local Chairperson Tyler Thompson reports. "J.P. was a natural fit for historian. He is a fifth-generation railroader, a published railroad historian and has college degrees in history and philosophy.
He is also a steam locomotive fireman and engineman. Our lodge is proud to have him as our new historian and welcomes his vast knowledge and immense pride as a brother railroader," said Local President Pat Wade. Pictured above, in his trademark conductor's hat, is Johnson, being congratulated by Wade.
Local 583, Fond du Lac, Wis.
Wisconsin Central/Canadian National conductor John T. Cetnar, 50, died March 30, State Legislative Director Craig Peachy reports. He is survived by his wife, Laurie, daughter, Jenifer, and sons John and Joseph. "Johnny had been battling cancer for quite a long time. It was a courageous battle. He never gave up and always tried to make every meeting for the local. He always wore a smile on his face and was upbeat," Peachy said. A memorial fund in Cetnar's name is being established.
Local 1440, Staten Island, N.Y.
Trainman John "Flyman" Burman, who retired in 2011, has been inducted into the Railroaders' Hall at the Railroad Museum of Pennsylvania in Strasburg, Pa., according to Secretary & Treasurer Vincent LaBella. He had previously served as the local's president and secretary & treasurer. "Mr. Burman's passing in 2011 left a sad hole in his peers' hearts, as he was known for really enjoying his job and being a leader amongst his peers. The members of Local 1440 congratulate Mr. Burman's family on this accomplishment and would also like to thank motorman Anthony Sutera for his assistance with this process," LaBella said. Others wishing to nominate another individual for the hall may contact Sutera at rzx724@gmail.com. In other news, LaBella reported the retirement of engineer Charles Brodbeck, who worked on Staten Island Railway from 1985 until 2013. "He served the passengers, co-workers and the community with polished professionalism," LaBella said.
Local 1892, Houston, Texas
Yardmaster James Boehm reports that his father, James Larry Boehm, passed away April 7. The senior James, 69, hired out with Union Pacific in 1972 as a switchman. He was a UTU member for 31 years. During the last 20 years of his career, he worked as a yardmaster.