Local 23, Santa Cruz, Calif.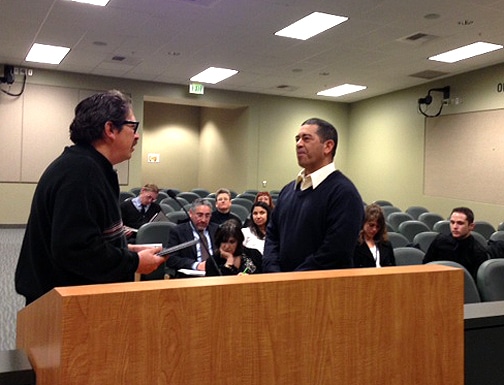 Santa Cruz Metropolitan Transit District bus operator Jose Polanco, center, is recognized for his
outstanding safety record and committed service to the community by a district official on Feb. 22.
Polanco developed a plan to identify thousands of safety repairs needed at community bus stops,
many that were near collapse and posed risk of injury to the public.
Local 60, Newark, N.J.
New Jersey Transit General Chairperson Pat Reilly retired effective Jan. 1 after 41 years of service, but the local's stewardship remains in familiar hands. Reilly is succeeded by his brother and former Local President Mike Reilly. A third-generation railroader, Pat began his railroad career in 1971 as a brakeman with Erie Lackawanna Railroad and was promoted to conductor in 1974. Before becoming general chairperson, he held a number of union offices including vice local chairperson, delegate and vice general chairperson. He also held the positions of Grand Central Terminal assistant superintendent, National Transportation Safety Board accident investigator and FRA supervisor. Mike began his career in 1978 as a Conrail brakeman and was promoted to conductor in 1980. Besides service as local president, he has also held the Conrail positions of rules examiner, trainmaster and safety officer. The brothers have worked closely over the past few years on issues including passenger hours of service, conductor certification, the Local 60 Express (quarterly newsletter) and protection of assignments due to the devastation from Hurricane Sandy. Local 60 has approximately 1,100 members working as conductors and assistant conductors operating more than 700 weekday passenger trains over ten rail lines, including Amtrak's Northeast Corridor.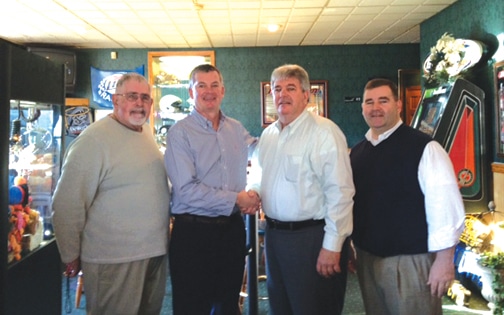 Celebrating Pat Reilly's retirement, from left, are retired conductor and uncle Jack Reilly (42 years of service),
retired General Chairperson Pat Reilly, General Chairperson Mike Reilly and former member and brother, Brian Reilly.
Local 243, Fort Worth, Texas
Retired member James "Hoppie" Lillard invites all active and retired railroaders in the Granbury, Texas, area to join the Granbury Railroader Club, which meets the first Monday of each month at 11:30 a.m. at the Spring Creek Barbeque in Granbury. The club is beginning its third year of regular gatherings and is open to all crafts. Also, Local 243 webmaster Steve Cline reminds all members that the local has a new website at www.utu243.org and that BNSF GO 393 General Committee of Adjustment has a website at http://utu393.org.
Local 313, Grand Rapids, Mich.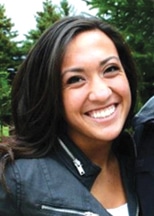 Kelsey Gibson, 21, daughter of Michigan State Legislative Jerry Gibson and his wife, Carmella, was seriously injured the morning of Jan. 29 in an automobile accident. A student at Grand Valley State University and recently engaged to be married, Kelsey was driving a Ford Escape when she was broadsided by a pickup truck in heavy fog. She remains hospitalized and in a coma. A fund for the Gibson family has been established at Fifth Third Bank. Send donations, payable to "FBO Kelsey Gibson," with #7168002785 on the memo line, to: Stephanie Hickox, Fifth Third Bank, 3980 Alpine Ave., Comstock Park, MI 49321. "The doctors have told Jerry and Carmella that Kelsey is in for a long fight. There will be a lot of missed work and family expenses to be met," said Local Treasurer Don Silseth. "If you can donate one day of pay, one half-day of pay, one hour of pay, great. If you can offer continued prayers, great. It's all needed and appreciated."
Local 587, Greenfield, Mass.
Local Chairperson James C. Falandes reports that long-time member and engineer James C. Dunn died Feb. 2 after a courageous battle with cancer. Survivors, in addition to his mother, include wife of 42 years, Beverly, his daughter and son-in-law, Sheristin and John Tedesco, and his beloved grandson, Johnny.
Local 1081, Glendale, Ariz.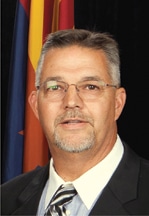 BNSF Engineer and Local President Tommy G. Pate, who has served as both secretary and vice general chairperson of BNSF GO 20 General Committee of Adjustment, has been elected to the office of general chairperson following the elevation of former General Chairperson John England to the office International vice president. He assumed office Feb. 15. Since hiring out in 1978, Pate has also held the local union offices of treasurer and local chairperson. "Tom has been an active member of Local 1081 and played an important role in re-establishing the 'E' committee in the Phoenix area," said Local Chairperson and Secretary Glenn Bay. "The members of Local 1081 applaud Tom on his achievements and wish him the best in his new endeavor."
Local 1951, Albany, N.Y.
Vice Local Chairperson Michael Doherty will be running in his 10th Boston Marathon April 15 to raise money and awareness for the Dana-Farber Cancer Institute. Doherty, who serves as a board member of the Dana Farber Marathon Challenge, said more than 500 runners are participating in support of the institute. "Over the past 10 years, I have raised more than $70,000, including $4,000 so far this year. My goal for this year is $10,000," Doherty said. "My wife is a cancer survivor and my father has been winning his battle with cancer for the past four years. Also, two of my yardmaster brothers were just recently diagnosed with the disease." Tax-deductible donations payable to "DFMC" can be mailed to Michael Doherty, 76 Pike St., Tewksbury, MA 01876, or can be made online at www.runDFMC.org/2013/miked.
N.D. 'Spring Swing' meeting location changes
All active and retired members of North Dakota locals will have the opportunity to visit with UTU International and general committee officers and representatives from the Railroad Retirement Board, health-and-welfare benefit providers and designated legal counsel at a series of informational meetings from April 16-18.
UTU members in the area should note that the location of the April 17 meeting hosted by Local 525 has been changed. See the information below.
Members and their spouses are welcome to attend any of the three Spring Swing meetings, according to State Legislative Director Jim Chase.
"These meetings represent the best opportunity of the year to interact with UTU members from across North Dakota and western Minnesota," Chase said. For further information, call (701) 223-0061 or send email to utu4nd@gmail.com.
Tuesday, April 16, Locals 887, 980, 1137; 1 p.m. meeting followed by free lunch at the Fargo Howard Johnson Inn.
Wednesday, April 17, Local 525; 2 p.m. meeting followed by free lunch at the Hilton Garden Inn, 4301 James Ray Dr. in Grand Forks, N.D., (701) 755-6000.
Thursday, April 18, Local 1059; 1 p.m. meeting followed by a 6 p.m. social and 7 p.m. retirement banquet at the Minot Vegas Motel.