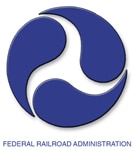 The Federal Railroad Administration and the Pipeline and Hazardous Materials Safety Administration (PHMSA) will host a public meeting Aug. 27-28 in Washington, D.C., about the transportation of hazardous materials by rail. The two DOT agencies want to hear from stakeholders because they have begun a review of operational factors that affect the safe transportation of hazmats by rail, no doubt spurred by the recent Canadian disaster involving a derailed train carrying crude oil to a refinery.
The meeting is scheduled to last from 8:30 a.m. until 4:30 p.m. both days in the Oklahoma Room in the DOT Conference Center, 1200 New Jersey Ave. S.E., Washington, DC 20590.
Anyone who wants to present an oral statement should notify Kurt Eichenlaub, Railroad Safety specialist in the Hazardous Materials Division's Office of Safety Assurance and Compliance at FRA, at least four business days prior to the meeting at (20) 493-6050 or Kurt.Eichenlaub@dot.gov.
Comments also may be submitted electronically at www.regulations.gov (Docket No. FRA-2013-0067).
This article originally appeared at www.ohsonline.com.